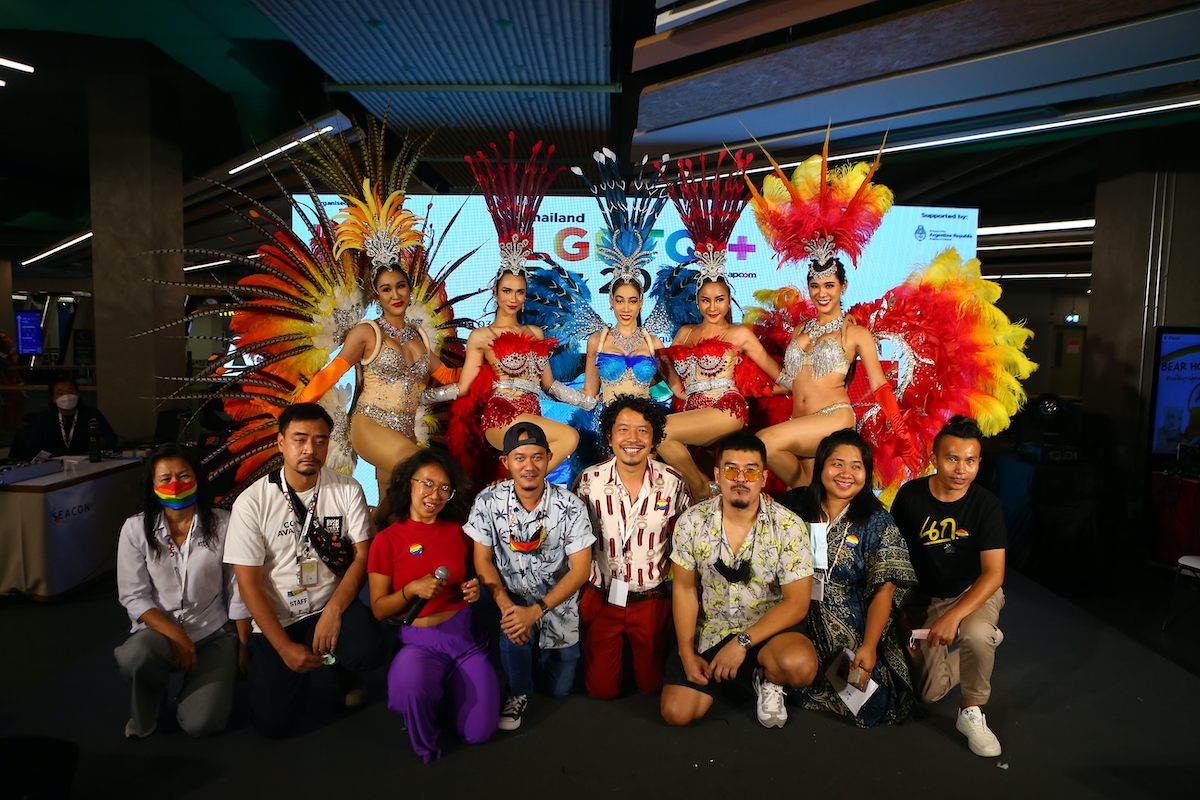 To celebrate Pride Month, APCOM held Thailand LGBTQI+ Biz event at Seacon Square shopping center.
Supported by the Embassies of Argentina, Australia and Canada, and Voice Global, and with the cooperation of LGBTQI community network, SMEs and Bangkok University.
We were honoured to have Chargé d' Affaires a.i. Gustavo Méndez, opened the event, as Argentina co-chairs together with the UK, the Equal Rights Coalition, an intergovernmental body of Member States dedicated to the protection of the rights of LGBTQI persons. The Global Conference will be hosted in Buenos Aires, Argentina in September.
"Pride which we celebrate this month is a central element within the LGBTQI+ community and symbolizes a response against discrimination, injustice and violence that LGBTQI+ people still suffer throughout the world. In this regard for Argentina, the pride month is an opportunity to reaffirm our country's commitment to the promotion and protection of the rights of LGBTIQ+ people, both in Argentina and abroad."
The Canadian Embassy held a panel event to share its LGBTQI rights experience. First Secretary Shawn Tinkler commented,
"Just last November, Canada's Minister of Justice and Attorney General tabled legislation in our parliament to ban the practice of conversion therapy. By introducing this bill, he sought to criminalize the practice in Canada, making it a crime to provide or promote services intended to change or suppress the person's sexual orientation or gender identity, and aiming to protect both minors and adults. The bill was passed, I'm happy to say, unanimously by all parties in Canada's parliament and it came into force just this January. This is part of our ongoing journey."
Khun Nareeluc Pairchaiyapoom, Director of International Human Rights Division of the Rights and Liberties Protection Department, Ministry of Justice also shares Thailand's LGBTQI right journey. She outlined the Gender Equality Act 2015, the Civil Partnership Bill, which is now pending in parliament, and has been developed since 2012 – she mentioned that of course the ultimate goal would be equal marriage. Another law waiting to come into force is the Anti-discrimination Bill which aims to eliminate all forms of discrimination, including gender, disability, and ethnicity, with civil society playing a key role in advancing it.
We were honoured to also have the Ambassador of Canada to Thailand, Laos and Cambodia, H.E. Dr. Sarah Taylor took part in the event.
"I'm very pleased that the embassy of Canada can be part of the celebration and one of the supporters again this year and we have the opportunity to meet with community members, stakeholders and business allies who care about diversity and inclusion of LGBTQI people here in Thailand. The work of all of you has contributed greatly to progress that Thailand has made as a leading country in this region on LGBTQI issues and on business and human rights more generally."
H.E. Dr. Sarah Taylor also presented APCOM HERO Awards 2021 for the Young Achiever category to Ikka Noviyanti who is from Indonesia, as the HERO Awards was held virtually last year due to Covid-19 restrictions. Ikka is a young woman living with HIV and is working at international level with an organization called Youth Lead which is based in Bangkok.
"I would like to thank APCOM, and I have never thought about receiving this kind of Award in my entire life. Coming from Jakarta, Indonesia, to Thailand is already a privilege for me to work with young people and young key populations in this region. So I think what I'm doing here is to support the young key population and the young people, empower them so that more young people know about their rights, sexual reproductive health and rights, and everything they need to know about themselves."

Commented Ikka as she received the Award.
Thailand LGBTQI+ Biz 2022 supported by:
---
Share this