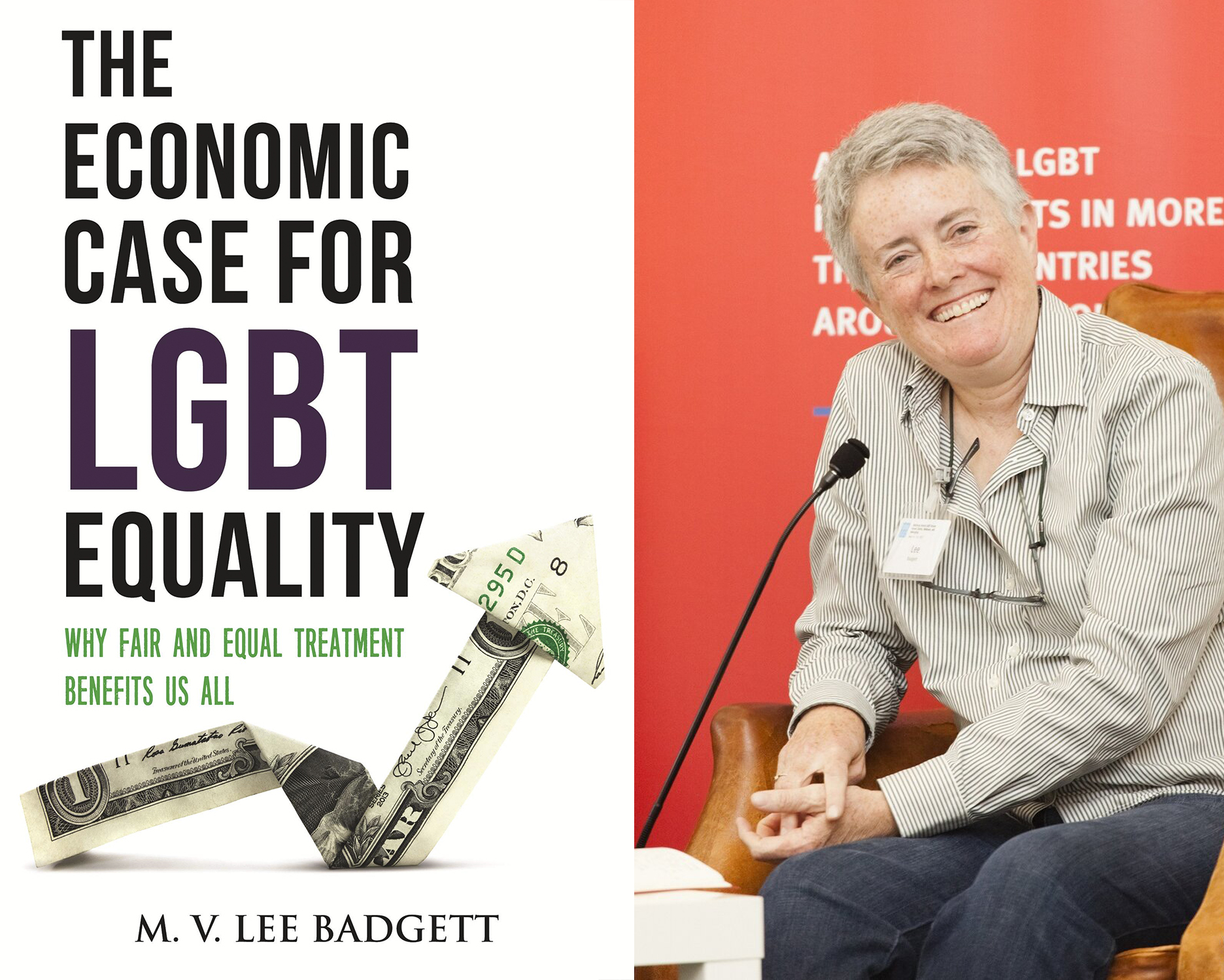 Featured photo: www.leebadgett.com
Contributor:
Ramil Andag, APCOM
---
'We all depend on each other for our economic daily lives. It's about making the pie bigger. It's not about how big your slice is but about how big the pie to divide is. And if we want to have the biggest pie to divide possible, then we have to treat everyone fairly and to include everyone's talents, skills, creativity and we need to nurture that talent, skills, and creativity in the education system. We need to preserve them in the healthcare system, and to make sure that everyone is able to participate fully in the economy.'
This was how Prof. M.V. Lee Badgett described the main message of her recently launched book 'The Economic Case for LGBT Equality: Why Fair and Equal Treatment Benefits Us All' in an online conversation with her last June 15, 2020.
Aside from sharing highlights from her recently released book, she also shared her insights about how civil society organizations can maximize data in her book in our advocacy, and the mutual relationship between the business case for LGBTQI inclusion and human rights.
M.V. Lee Badgett is a professor of economics at the University of Massachusetts Amherst and the co-director of its Center for Employment Equity. She is also a Williams Distinguished Scholar at UCLA's William's Institute.
She is also a member of APCOM's Technical Advisory Group for Finance Inc., a multi-country project APCOM and our country partner organizations is currently implementing in Cambodia, Indonesia, Lao PDR and the Philippines. Finance Inc is engaging development banks and the private sector on LGBTQI inclusion and is being supported by Voice.

Your new book 'The Economic Case for LGBT Equality: Why Fair and Equal Treatment Benefits Us All' talks about research and statistics to analyze how hostile practices and environments affect economies. Can you please share how the research was conducted?
There are two levels in terms of the book. The main phase of the first half is to search the literature which is important to show what these experiences are like for LGBT people and the challenges that they face in many different countries. Partly my goal is to find data for a lot of countries and to go as deeply as possible to understand what these experiences are. Then taking that information and making estimates as to how much is lost because of those kinds of experiences.
And that's the hard part. The way I have been doing it and some other studies who used the same methodology is to take different pieces of it to, say, let's look at employment discrimination. We know it exists, we know it's likely to hurt economies because it pushes people to jobs where they are not able to be as fully productive and as creative as they could be.
The other piece is to look at health disparities. There are lots of researches around the world that points to LGBT people experiencing more disparities. They are more likely to think about suicide, have higher levels of depression and anxiety, some have higher levels of substance use, higher risks of HIV. Those health disparities pull more LGBT people out of the labor force, these are going to reduce people's ability to contribute because of these health conditions.
So, can we estimate how many fewer people would have fewer of these conditions if there were no homophobia and transphobia? That's the step we did for health and then tried to attach a dollar value to it. There are different ways of estimating how much in dollars is lost because of the inability to participate.
Another area which economists worry about is education. We know that there is a lot of bullying, harassment, discrimination, and violence against young LGBT people in schools and there is evidence of that in many countries. And in a few countries, we have evidence that it reduces people's ability to learn in the sense that they have lower grade point averages, they are less likely to attend school, they may drop out, they may not go on from secondary schooling to universities. Those all reduce the skills and knowledge of people available to the work force.
So far, we don't have the estimates of those impacts are.
But looking at the data on employment and health disparities, we have these ways to estimate how much is lost. It's a question of adding it up and what studies I have done in India, in the Philippines, very simple estimates. Other people have done it in Kenya, South Africa. Each of these studies has a range of estimates about what the cost to economy is. But the piece that kind of overlaps, is that at least or as much as 1%, depending on the study, of GDP is lost as a result of homophobia and transphobia. That magnitude is consistent across studies.
Can you help us appreciate more the 1% economic loss due to discrimination and homophobia?
The way economists think about loses in GDP, normally we think about this in terms of the business cycle, the ups and downs of economy. If the economy goes down, if the GDP goes down, we normally call that a recession. The way I think about it is that 1% lost from homophobia and transphobia is like a permanent recession, like a structural recession. It's holding our economies back from at least that much extra because of how we treat LGBT people. For that matter, other studies have shown that holding back women, ethnic minorities, racial minorities has a similar effect. So, overall, our lack of equity and inclusion really put our societies in positions where we are able to do much less than we are capable of.
What are the Intersects between health, education and employment?
Health, education and employment were looked at separately just to organize the book, but they are all linked. You can almost think of it as a cycle where discrimination or violence in one area can result in what psychologist call as minority stress. It adds to people's life stress, and just in and of itself, losing a job can also be stressful. It doesn't only mean that you have lost a job and income, but it can cause stress right then and into the future because people start to worry about discrimination. People expect it to happen and think about how do they keep it from happening. To keep it from happening might be to not be very open about being LGBT. The problem with not being open about being LGBT is not a passive thing. You have to work hard and it takes its toll. And that's one link.
In education, we see bullying and harassment and are minority stress and it can also mean that people are not able to get as good jobs as they are capable of in the future because they don't have the educational qualifications.
Poor health affects the economy by making it harder for people to go to school, and to their jobs. So, they are all linked and all together creates a very challenging situation for LGBT.
How do you think civil society organizations can maximize the new data in your book?
I think to maximize its value, it's important to speak about it not just in relation to business but in the context of our whole economy. And some of these economic effects that I talked about are much broader and affects everybody. I think that the COVID-19 crisis highlighted that we are all connected globally. There is nowhere to hide when there is a pandemic, when there is a recession.
And that is really the message of this book. We all depend on each other for our economic daily lives. It's about making the pie bigger. It's not about how big your slice is but about how big the pie to divide is. And if we want to have the biggest pie to divide possible, then we have to treat everyone fairly and to include everyone's talents, skills, creativity and we need to nurture that talent, skills, and creativity in the education system. We need to preserve them in the healthcare system, and to make sure that everyone is able to participate fully in the economy.
---
Part Two:
Effects of COVID-19 on LGBTQI Communities, The Importance of Partnerships for Data Generation, and Leveraging Data for Inclusion
---
M.V. Lee Badgett's book The Economic Case for LGBT Equality: Why Fair and Equal Treatment Benefits Us All is available on Amazon, Barnes and Noble, Indiebound, Bookshop.org, and Beacon Press.
---
Share this