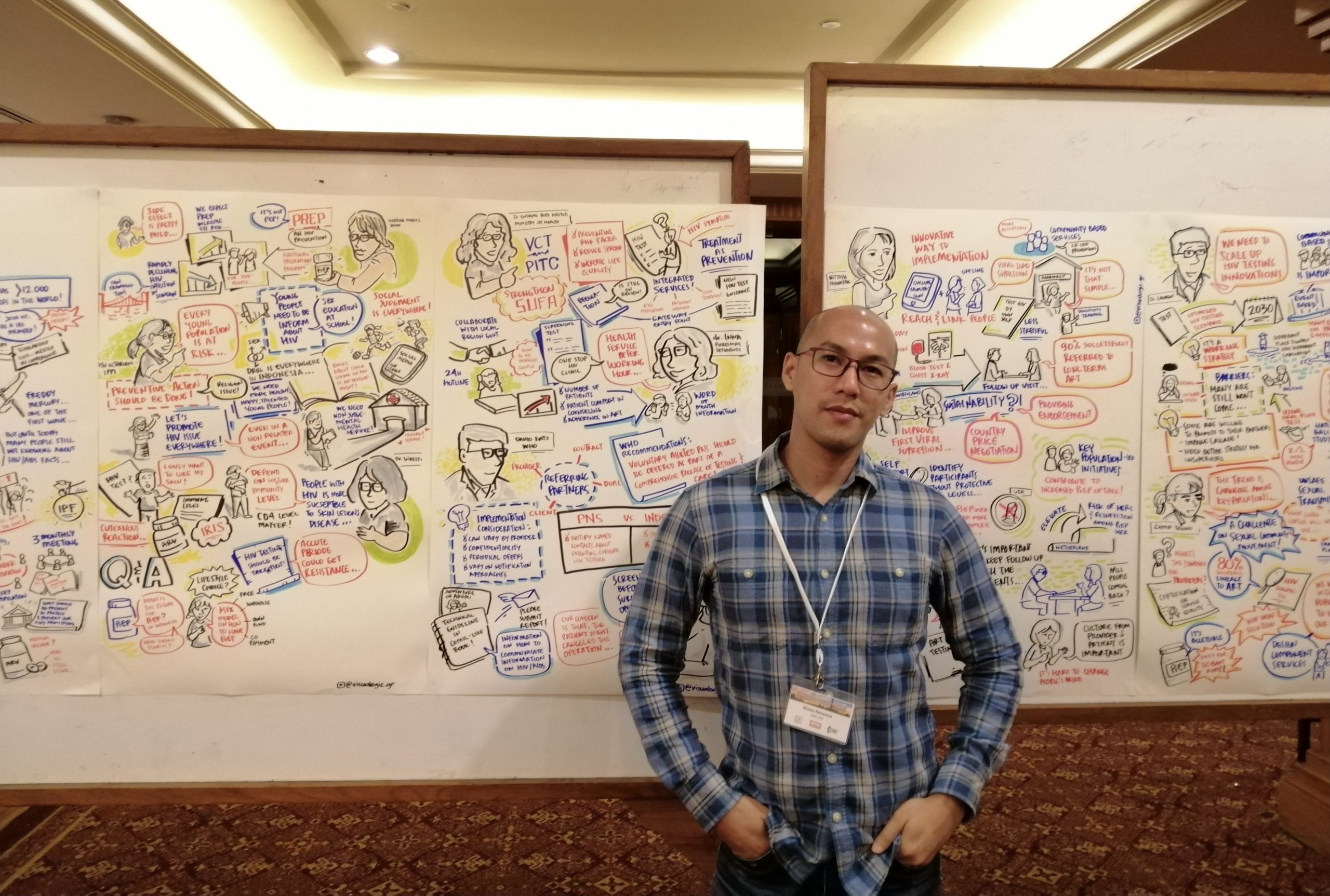 Contributor :
Nicky Suwandi
APCOM
---
There's an overarching concern among People Living with HIV (PLHIV) in Indonesia at the same time as COVID-19 vaccines gradually become available to the public. Rumour has it that PLHIV must disclose their HIV status in order to get the vaccine. Wawa Reswana repeatedly hears this topic being brought up in casual conversations with friends, and notices that this issue is well-circulated among peer support online chat groups. Wawa also receives numerous queries on this through his personal contacts.
Wawa, himself a PLHIV, is an activist and human rights defender who currently works as a Project Officer in GWL-INA, a national network in Indonesia for gay men, other men who have sex with men and transgender people (waria). Diagnosed with HIV since 2013, he dedicates special attention to the health and well-being of  the transgender community in his motherland, and is often invited as a speaker to various events related to his experience as an openly gay PLHIV. This has resulted in Wawa now  being seen as a community champion and a  figure of inspiration.
"I'm well-connected with fellow Indonesian PLHIV at least with the community in Jakarta and Bandung where I come from. Means of communication through whatever technological advancements available are very important these days, providing a substantial support system that is effective and efficient among the community,"

Wawa explains.
He comments on Indonesia's plan for the COVID-19 vaccine rollout, "My friends are worried, particularly those who work in the private sector, where their employers are setting out a plan for mandatory vaccination for its employees. It's obvious that they can't reveal their HIV status in a workplace setting, where stigma and discrimination towards PLHIV is a serious issue that may lead to improper termination of employment – a catastrophe  for an employee." An online article from SHRM reports that thousands of Indonesian employers are signing up for a program that will allow them to purchase COVID-19 vaccines to administer to their employees – a government-approved effort dubbed as Gotong Royong (mutual cooperation) to accelerate vaccine distribution, coronavirus herd immunity, a return to normal work operations and economic recovery.
Wawa and his colleagues at GWL-INA managed to sign-up for the vaccine through an invitation from the Ministry of Health. The moment of truth was revealed when he got his first jab at the beginning of May 2021. As he began to fill in the consent form, he quickly noticed that he must state his medical condition, along with the list of medication he is currently taking on a regular basis. Next pit stop was an interview in an open space setting, where the health official verbally mentioned all things written on the consent form, including his HIV status. Even though physical distancing measure was in place, it was loud enough for everybody in the room to hear.
"It meant nothing for me, really. I am an out and a proud PLHIV. Everyone I know is aware of my condition. It would, however, create a very awkward situation for a closeted or discreet person. The adverse effect would likely result in negative outcomes, particularly if such incidents happen in a workplace setting where everyone in the room are your colleagues,"

says Wawa.
He thought that there would be a protocol in place to interact with patients with delicate conditions, including PLHIV. He really depreciated the experience, and now he understands why most of his friends need to lie on the consent form.
He also noticed that he didn't get any proper instructions or information from the on-site staff when he had his first jab. Not even basic information, such as the name of the vaccine and its side effects, let alone specific information related to PLHIV. His primary concern was drug interaction between the vaccine and his once-daily taken antiretrovirals. He eventually came to know the name of the vaccine after he received the certificate. It was Sinovac.
The first jab had only mild side effects for Wawa. Sleepy, languid and extra cravings for good food – nothing unusual as he'd expect. Wawa got his second and final jab two weeks later and he's very excited about it. Aside from the dilemma that PLHIV in Indonesia has to deal with in connection with the COVID-19 vaccine, he highlights the significance of it, and appreciates the efforts of the Indonesian government for administering vaccines to its citizens.
"Vaccine is undeniably important and it's good for barricading yourself and your loved ones from the virus, along with consistent mask use, of course. This protection measure will also put our minds at ease, even if just slightly. Mental health issues are valid and as PLHIV we still have other things to take care about in life," Wawa comments, while reminding other PLHIV to sign-up for vaccination, by virtue of the fact that life simply matters.
---
Share this