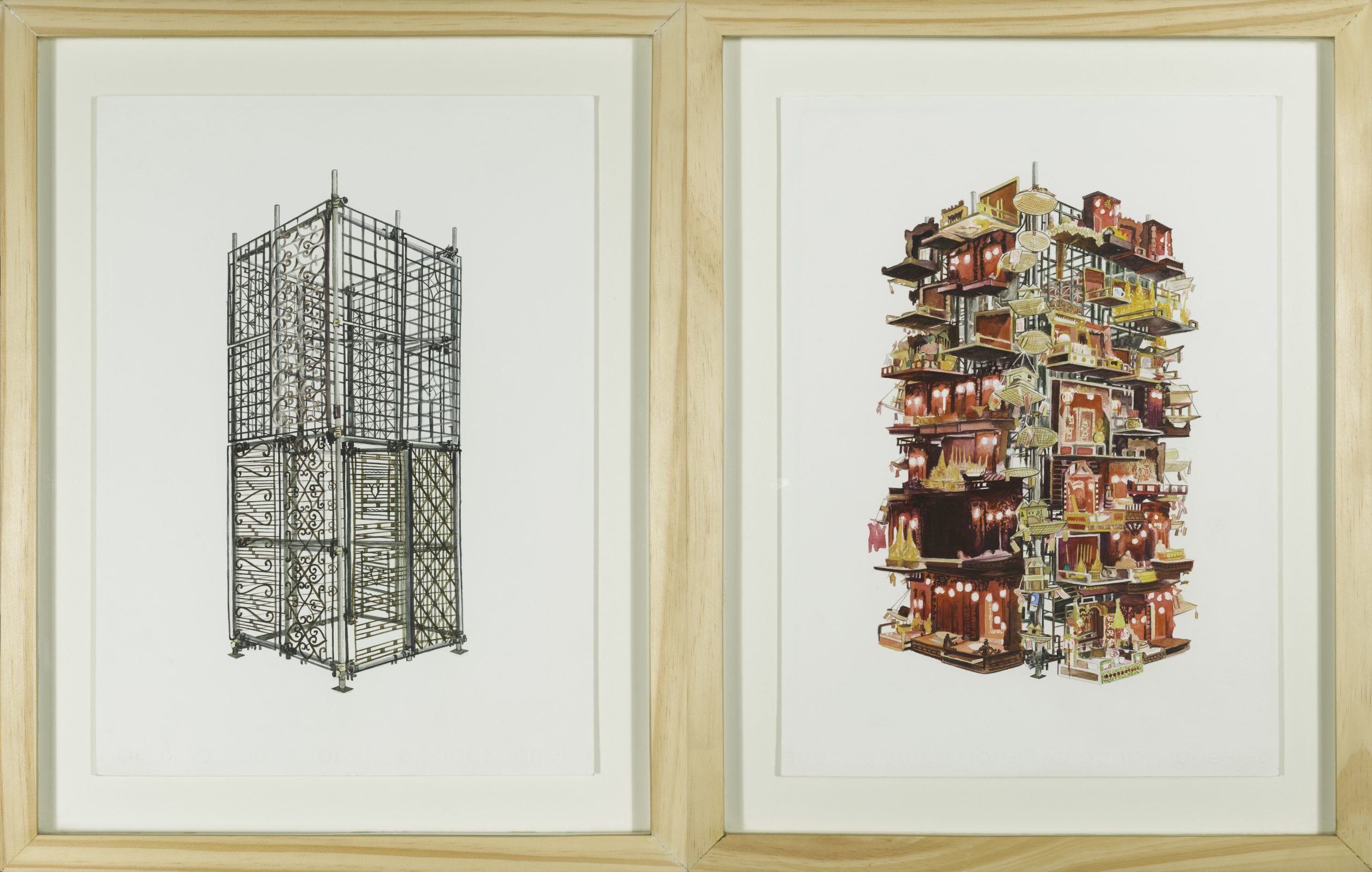 Vuth Lyno, House – Spirit, 2019. Watercolor on paper. Painted by Than Sok. A set of two, 27 x 37 cm each. Image courtesy the artist.
---
Contributor:
Lyno Vuth, Cambodia
---
My name is Lyno Vuth. I'm an artist, curator, and the artistic director of Sa Sa Art Projects, an experimental space for contemporary art in Phnom Penh, Cambodia. My art work consists of photography, video and sculpture usually resulting in installations. Generally my work process is participatory or collaborative, involving project participants who produce the meaning of the work. I also work with Rainbow Community Kampuchea (RoCK)—supporting creative communication—by connecting art and culture with their advocacy work on LGBTIQ rights.
What was originally planned for 2020 before COVID-19 hit?
I had some art projects and trips planned in 2020, including a solo exhibition in Cambodia, a curatorial project in Taipei, an art exhibition in Tokyo and a seminar in Berlin.
How has the pandemic affected your life, work and the sector?
Many things were very uncertain at that time. I was self-isolated for about 6 weeks and only went out to buy groceries. I didn't get to see my parents during that time. I'm partly social and quiet as a person, yet it was still hard. I was learning how to be on my own all the time dealing with my own company. My art projects abroad were later on either postponed or canceled. Our art space Sa Sa and other galleries closed their doors. The art scene in Cambodia was standing still, but only in one aspect which was public engagement. Behind closed doors people were making interesting initiatives and continued doing their work. My team members at Sa Sa were working from home. We were in touch with our students and artists, and shifted the focus by working on projects which we didn't manage to do before, e.g. working on publications of work. We also explored ways of engaging the public with exhibitions though online experience and social media.
How have you been occupying yourself during the pandemic?
I did not make art during my self-isolation period. I tried to make sense of the world we live in. A lot of injustice and problems in many corners of the world became even crystal clear. I was very aware of the privilege I have, such as being able to buy food, cook and stay privately at my house. Furthermore, I was able to sustain myself financially. I could access the internet and use digital technology to stay in touch with my family and friends. Not many people could do that. I also reconsidered my art work: "what art do I make; and is that what the world needs right now and for the future? Through what form of participation and collaboration can my art work be meaningful in a world limited by physical contact?" I was always interested in sound so I started to read a lot more about this topic by listening to sound. I also learned to cook—I am a terrible cook. Even after the isolation, I still didn't master it. Furthermore I was taking care of my plants on the balcony which helped refresh my daily energy. Another occupation was working out while following some YouTube trainers. During that time I was very grateful to be in touch with a good friend in France. As a result, we became very close.
What have you been most proud of during this time
Self-reflection and a stronger sense of connectedness and moral sensibility to the local and global injustices, were the things that still remained with me after the self- isolation. I was grateful for that period during which I was able to focus on finishing some pending publications, learn about sound regarding my art work and build a closer relationship with a good friend.
What are your main worries?
I'm worried that we didn't learn from this crisis as an experience. I'm worried that we simply want to go back—and did go back—to the same world before the crisis. I'm also worried that we didn't have the ambition and imagination to demand and shape a new world—a better world for our immediate and distant communities.
What do you think will happen to your sector post COVID-19/new normal?
We have already seen some online initiatives continuing after this intense period. For example, an archive center in Phnom Penh continues to share electronically rare audiovisual material of Cambodian culture. Normally such material was only accessible on site, at the center. This new initiative allows more public access to the material remotely. I think electronic access to the public—both locally and internationally—is a model that the sector continues to maximise. Ultimately this online experience cannot replace the physical experience of art or most of things. The question is, how both can produce a compelling and expanded experience.
What do you/artists need support on, and what is not currently being met?
Artists need to be able to continue their work, but it's also okay not to be productive and produce art all the time. During this crisis, I think one level of key support consists of a way of allowing artists to sustain their work and being supported for not producing work for those whom exhibitions and projects were canceled or postponed. A time for not producing work is not simply an idle time, but a strategic choice to resist the art market. It's a time to be self-reflexive and realign one's practice with the reality of the world's conditions.
Are there any tips that you could share with fellow LGBTI artists?
(from work, to dealing with mental health etc.)
Try to stay well and connected with yourself, your families and friends, and your communities. Build a stronger connection with your loved ones by being more in touch. Revisit your goal—whether or not it is affected by the crisis—and use this time to build steps towards that goal. Do activities you enjoy or learn new skills that activate both the body and the mind. Create a project for yourself. Exercise or dance, or do karaoke with your friends through video calls. Do not make art. Or make the worse possible art. Then you can make better ones.
---
Share this