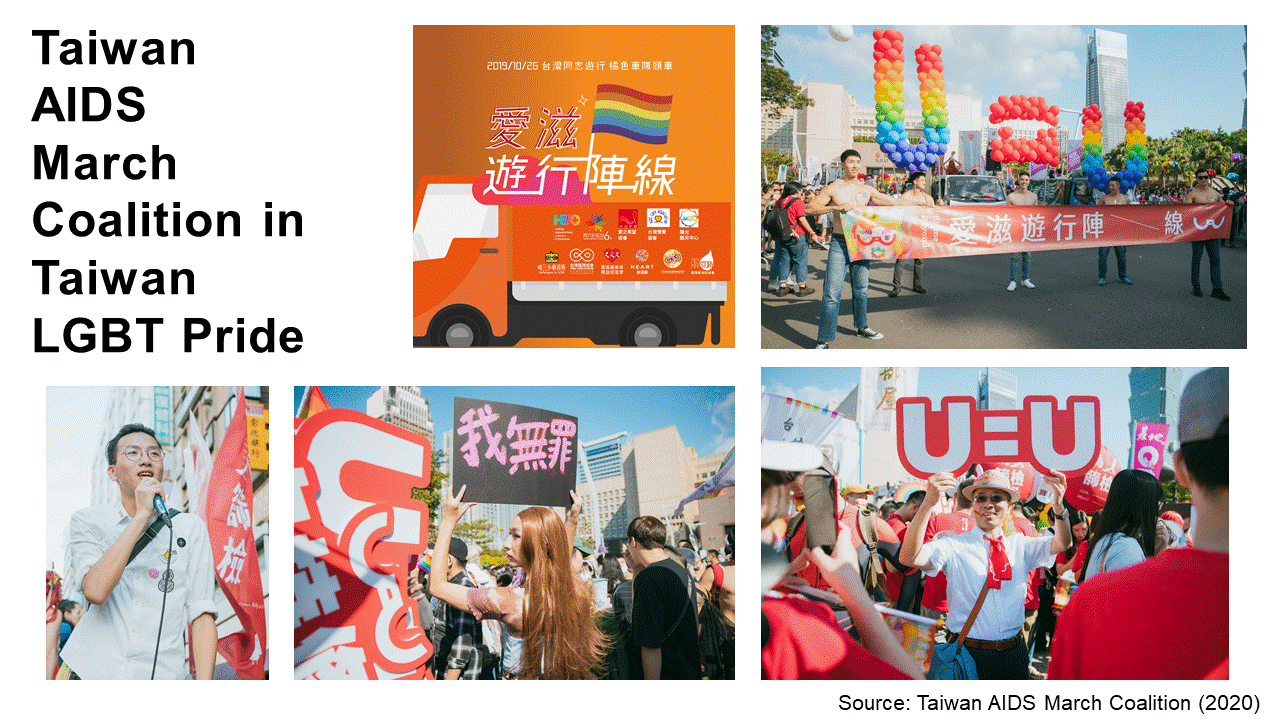 ---
How the private sector and government authorities in Taiwan promote U=U
Although we have seen some progress in terms of gender equity education and LGBTIQ+ rights in Taiwan in recent years, there is still great room for improvement when it comes to destigmatizing HIV/AIDS. Schools have been requested by the government to provide HIV/AIDS education, but this was limited to only students and teachers. Ordinary adults show an insufficient understanding of HIV/AIDS, and stigmas as well as bias associated with HIV/AIDS are still common.
Using the marriage equality movement in Taiwan in the past years as an example, anti-LGBTIQ+ groups have spread plenty of rumors about HIV/AIDS, and used them as a tool to attack the LGBTIQ+ community and same-sex marriage. One of the rumors claimed that "the legalization of same-sex marriage will allow many foreign gay men who are HIV positive to enter a fake marriage with a Taiwanese, in order to exploit the health insurance system of Taiwan, which will lead to the bankruptcy of the system." Facing this large-scale dissemination of HIV/AIDS-related false rumors, LGBTIQ+ organizations went out of their way to the true facts, while government authorities were forced to publicly refute these rumors. In this context, the Taiwanese government has taken a rather conservative stance on HIV/AIDS to prevent their statements from being misinterpreted by anti-LGBTIQ+ groups and causing further disputes. As a result, it has been mainly NGOs, professional academic societies and healthcare workers specializing in HIV/AIDS that engaged in the U=U advocacy. They have adopted diverse promotional methods which, in addition to the common practices of talks/discussion forums, testing consultation, online articles/infographics, press conferences and seminars, have also included printed materials and merchandises that have based their creative ideas on the concept of U=U. HIV/AIDS groups formed the Taiwan AIDS March Coalition in both 2019 and 2020 to promote U=U and the decriminalization of HIV/AIDS during LGBT pride parades. Furthermore, the Taiwanese government has demanded HIV/AIDS education on campus to cover topics like U=U, PrEP and PEP, as well as to produce printed materials about U=U. Although the wording in these materials is rather conservative and cautious (such as: an undetectable viral load means that it is almost unlikely for an HIV+ individual to transmit the virus via sexual encounters), it is still an important progress.
U=U and the decriminalization of HIV/AIDS
U=U is critical scientific evidence and a concept for the decriminalization of HIV/AIDS in Taiwan. It is stipulated in the Taiwanese special law on HIV/AIDS that, when someone who is aware of his/her HIV+ status engages in unprotected sex with another person without informing the other party of his/her positive status, the person shall be subjected to a range of punishments, regardless of whether he/she indeed causes the other party to be infected with the virus. This legal article imposes a disproportionally heavy responsibility and punishment on persons with HIV/AIDS and does not help with the prevention and de-stigmatization of HIV/AIDS. It has even become a reason for persons with HIV/AIDS to be threatened in their intimate relationship. Therefore, HIV/AIDS organizations have long been hoping to remove or revise this article. Moreover, the current definition of unprotected sex used by the Taiwanese government authorities was set in 2008 and has become outdated as it does not incorporate the latest medical knowledge, such as the concept of U=U. As a result, HIV+ individuals whose viral load is undetectable may still be subjected to punishments. Thus, it is also an important strategy for the decriminalization of HIV/AIDS to include reference to viral load into the definition of unprotected sex. Under the collaboration between HIV/AIDS organizations and Taiwan AIDS Society, the Society has issued an official statement to support U=U, giving the concept the endorsement of professional medical groups in Taiwan. HIV/AIDS organizations have also been promoting strongly the concept of U=U while advocating for the decriminalization of HIV/AIDS and trying to change the public understanding of HIV transmission. Prior to the revision of the legal articles, some HIV/AIDS organizations (such as PRAA) worked with lawyers and adopted U=U as a litigation strategy in relevant cases, in which this stance was indeed taken by the prosecutors and judges and defendants were not prosecuted or were acquitted.
Challenges faced while promoting U=U
Based on my own and other HIV/AIDS activists' experiences, the following challenges may emerge when promoting U=U in Taiwan:
(1) How to help the general public understand the scientific knowledge associated with U=U in plain language, especially when addressing the elderly. In addition, gaps may exist between statements and public understandings. For example, when sentences like "almost unlikely to transmit" (as stated in the materials produced by the Taiwanese government authorities) and "the risk is close to zero" are used, for some people, it still means that the risks exist.
(2) Fear and stigmas associated with HIV/AIDS still make it difficult for some people to believe or accept that U=U is a scientifically proved concept. On some online forums, we still come across people who do not believe that U=U is supported by scientific evidence, but insist that it is only an excuse people with HIV/AIDS make up to have unprotected sex or a slogan for pharmaceutical companies to gain profits.
(3) The concept of U=U is still not popular among medical specialties other than infectious diseases specialists. Even when healthcare personnel are aware of the information of U=U, they may still refuse to provide treatment for people with HIV/AIDS. According to a telephone survey conducted by Tongzhi Hotline and PRAA in 2020, many dental clinics still refuse to treat patients with HIV/AIDS despite an undetectable viral load. (4) Stigma associated with HIV/AIDS also make it difficult for infected individuals to disclose their HIV status. The prerequisite for people with HIV/AIDS to talk about their being U=U is that they are able to share their HIV status openly. While some have become willing to openly talk about their status of being HIV positive or undetectable, yet the survey conducted in 2019 by Hornet and HEART among 2,554 Hornet users showed that 79% of the HIV+ Hornet users chose not to disclose their status on a dating APP, let along their viral load.
Conclusion
From the aforementioned experiences in promoting U=U, it can be observed that, stigmas, bias and moral judgements associated with HIV/AIDS are in fact the biggest obstacles that hinder some people from accepting the U=U concept. Therefore, we need to deal with these stigmas associated with HIV/AIDS while promoting U=U. Furthermore, U=U is an important concept for us to better understand the transmission of HIV. However, we certainly would not want to see it being used as yet another criteria to judge people with HIV/AIDS. We have learned from our practical experiences that, for a person with HIV/AIDS to be able to take medication regularly and control his/her viral load, a group of favorable conditions often has to work together, including external support and internal psychological preparation. HIV+ individuals who are unable to achieve an undetectable viral load need more supports, not criticism.
Share this