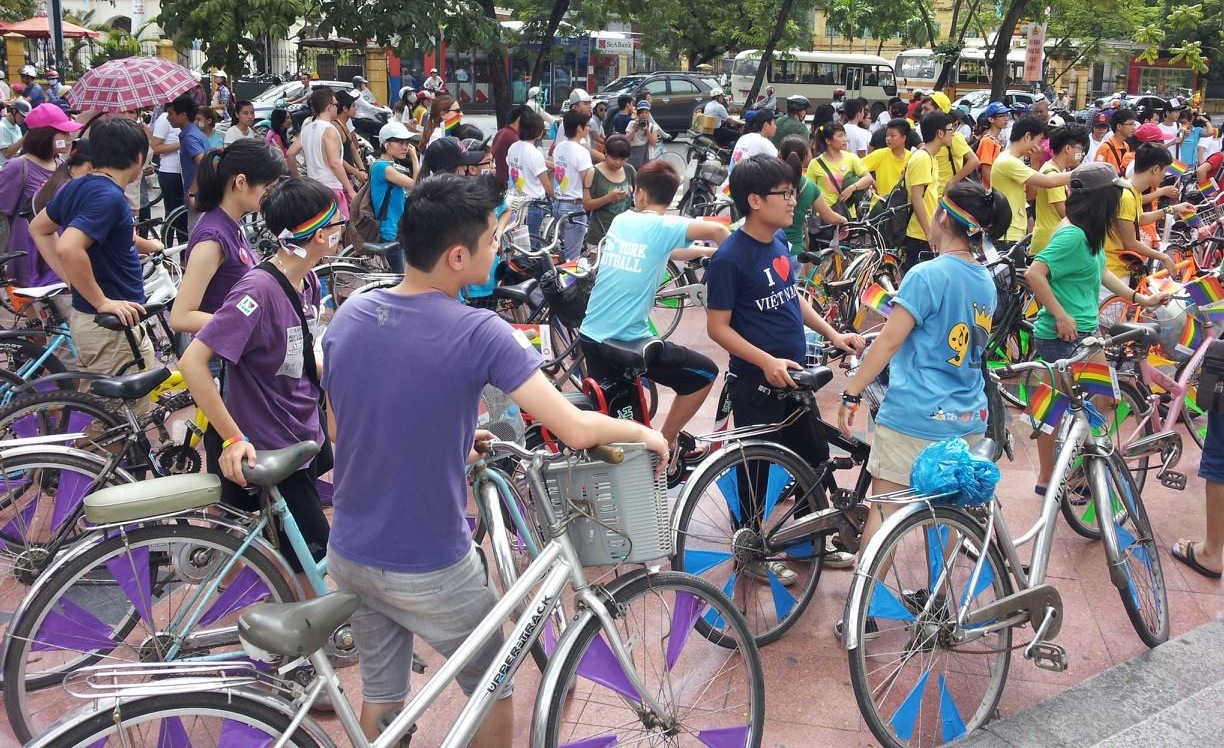 On August 4th, more than 200 participants from the  lesbian, gay, bisexual and transgender community joined a bike parade with 6 colors flags and banners.  They rode their bikes around Ha Noi city center to mobilize for the rights of LGBT people. The event was one in the chain of activities to respond Viet Pride 2013.
In many Western countries such as Sweden, Holland and the United States of America, pride festivals are annual events that have been held since 1969.  Initially starting as a protest for rights and equality, these events now attract thousands of participants including politicians, police, social workers, gay, lesbian, bisexual and transgender and other LGBT alliances, and their supporters as well.
In 2012, a Pride campaign covered Vietnam with the name Viet Pride 2012, more than 100 participants including LGBT and supporters enjoyed the rally, which made Vietnamese press and a lot of positive attention from the community.
Following the success, Viet Pride 2013 was held over 3 days, 2nd  – 4th August at Goethe Institute, with the slogan "Strive with pride".   This years activities included extra events such as talkshows and movie exhibitions to add to the official opening ceremony held on 2nd August.
Also present at the festival was the "Equal offices" campaign to community and press – a campaign took place since April in which more than 105 foreign and domestic enterprises joined with the aim of positive change the way enterprises look at LGBTs.
Overall it was a great weekend, surrounded by community, friends and allys and I am very much looking forward to Viet Pride 2014.  I hope you will come and check it out for yourself next year.
For more information on this event and future Viet Pride events visit their website.
Read the write up from Gay Star News – Viet Pride 2013 evokes mixed feelings.
---
Author:  Trần Dũng Vũ (Soo)
Photos Credit: Youth Dream Club (Long Ot, Shin Sung Suong, Quang Anh, Nguyen Thanh Tam, Bin Tay and Jesse Pizarro Boga)
Share this