Bangkok, 8 May 2020 – Nearly 40 people from civil society, government, and technical agencies, participated in the online discussion hosted by APCOM and The Poz Home last 30 April 2020. The virtual meeting discussed the issues and effects of COVID-19 pandemic and the corresponding Thai government's Emergency Decree to LGBTQI and HIV communities in Thailand.
A summary of the issues raised during the virtual discussion is presented below. The issues and the effects are presented per population groups. It must be noted that some of these issues may be cross-cutting between two or more groups.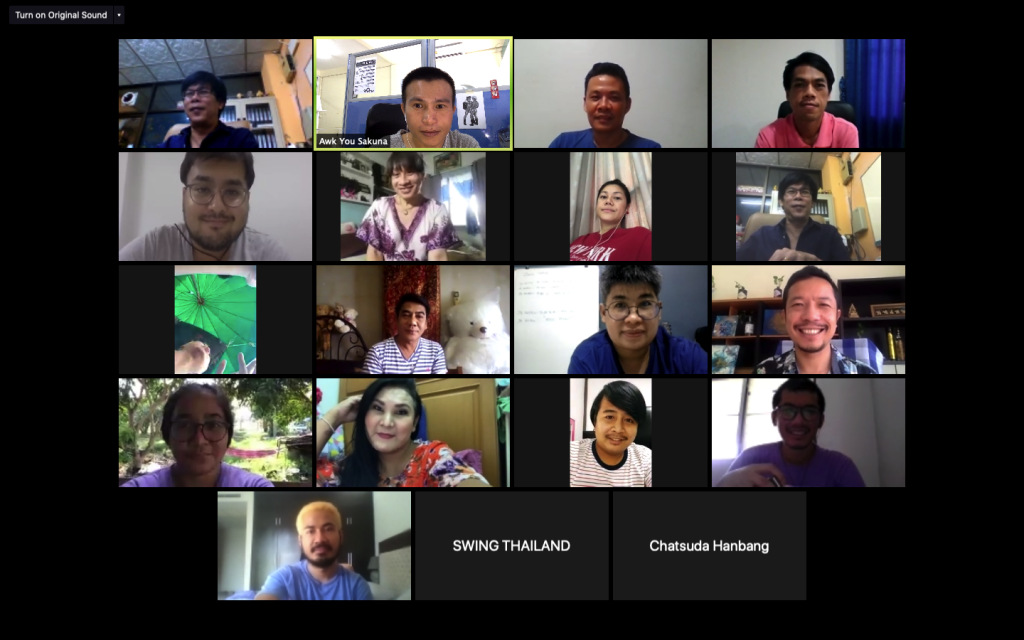 People Living with HIV
Reliable access to ARV is an issue. In most cases, the hospitals directly deliver antiretroviral drugs to patients who do not need to see a doctor. We found that in many cases, PLHIVs who have not disclosed their HIV status to their family, relatives, or friends prefer not to receive medication package through post or any courier service. Due to cross-province travel restrictions, some PLHIVs cannot access their health services.
Sex Workers
Many sex workers who are based in Bangkok ran out of finances and have to go back to their hometown as the bars and other entertainment establishments are closed down. Other sex workers, who were trapped either in Bangkok or Pattaya City, did not have other option but to live in the entertainment establishment where they work. As sources of income are becoming scarce, sex workers are not able to afford a decent accommodation to live.
Although some sex workers are able to receive clients, their negotiating power with client is much less and their work can be riskier to HIV, STI and COVID-19. As the nature of their work is not recognised as 'labour' under a legal premise, they are not able to access the Government's THB 5,000 relief scheme.
Women
For women who are victims of domestic and gender-based violence, a house is not a safe and secure place for them. Domestic and family-related issues cause conflicts within family members, hence, some people are not able to get along with their own family. Throughout this period, there were over 20 cases documented, where the women need to be rescued from their abode. However, the Emergency Decree caused challenges to the response. In some cases, rescue missions are rendered impossible. To assist women, and some children, who are victims of gender-based domestic, physical and emotional abuse, we need to find a way to coordinate between different agencies in the provinces.
Transgender people
The COVID-19 pandemic and the corresponding lockdowns and closures have limited the sources of hormones for transgender people. On top of the non-accessibility of services, lockdowns significantly reduced the sources of income for the trans community. With the scarcity of finances, they are not able to avail these services even if they know where to access them.
The harsh economic downturn affecting the community have pushed other trans sex workers into 'cyber-sex work' to generate additional income.
From the documentation of these experiences, transgender women often do not prefer accessing public hospitals, especially during this period. Previous experiences of their visits have placed them to 'male section' without regard of their sexual orientation and gender identity. These experiences of stigma and discrimination have caused trauma for some of them.
Some transgender women are also concerned that the general population will associate the COVID-19 pandemic to their community, thereby aggravating the current misconception about transgender people and HIV.
People who use drugs
There are currently no relief measures for people who use drugs who are required to travel daily to access methadone maintenance treatment (MMT).
Young People
There are a number of young people living with HIV. Most of the young people, including those living with HIV, are still studying. For those who are not privileged with a family of good standing, they need to take part-time work to generate finances to support not only their studies, but most especially themselves and their families. These young people have also lost their jobs, hence, suffering economically. To aggravate this reality, young people are not part of the key group entitled to receive Thai Government's THB 5,000 compensation, hence, they do not accessing any financial support.
Homeless people
There may be more than 1,400 homeless people in Bangkok. With the sudden hit of COVID-19, this number may have increased. Homeless people, of course have no residences, no houses, no ID cards, therefore, they do not receive any rights or benefits from government agencies. The Ministry of Social Development and Human Security can provide shelter but they cannot choose where, and also, they are congested.
Ethnic Minorities
Lockdowns mean mandatory closure of establishments and public places throughout the country. This may also mean that some people, with no other option, headed back home to their respective indigenous communities. With agriculture as main source of livelihood, there are no other sources of income for the community. With limited access to rural areas, correct information about COVID-19 and essential assistance may not reach them.
Young indigenous LGBTQI people, who are forced to return back to their communities, receive physical and/or verbal abuse from family or community members as their sexual orientation, gender identity and expressions are against long-held beliefs and traditions. Some reported cases of violence against young indigenous LGBTQI persons during this time include forced marriage and corrective rape committed by family members.
The main needs across the community groups working on LGBQI and HIV has shifted from PPEs, sanitizers, to issues of livelihood and food and shelter as travel and jobs are no longer available.
Although with very limited funding and human resources, the community-based organisations especially those at the frontlines, are ever so resilient to generate supplies and other forms of assistance to support their communities. Despite these, access to basic support are still very limited. The scarcity of support and the unequal distribution of assistance throughout the community raise grave concerns especially on the human rights perspective.
The discussion with the international stakeholders on the call demonstrated a gap in terms of an emergency funding mechanism to reach the grassroots organizations. There is difficulty in terms of re-budgeting current projects towards a COVID-19 relief. The Thai-based LGBTQI and HIV organisations or groups will need to reach out to humanitarian organisations for COVID-19 relief if these grave gaps are to be addressed.
The group will have a debrief discussion on how to next move forward together for joint proposal development, fundraising initiatives, identifying other stakeholders who can provide support.
Thank you to The Poz Home Center for co-chairing this powwow with APCOM, and thank you to the following organisations for their contribution:
Andaman Power
B Visible Asia
CAREMAT
HON HOUSE
Issarachon
Network of Youth Living with HIV
Ozone
Payoon Sri Trang Group
Pink Monkey
Sangsan Anakot Yawachon
Sairoong Ratchaburi Group
SISTERS
SWING
TEA
TEAK
Thai TGA
Young Pride Club
APCOM is supported by:
USAID Linkages across the Continuum of HIV Services for Key Populations Affected by HIV (LINKAGES) project
Partnership to Inspire, Transform and Connect the HIV response (PITCH)
Sustainability of HIV Services for Key Populations in Asia (SKPA) program
The Poz Home Center is supported by:
---
Share this