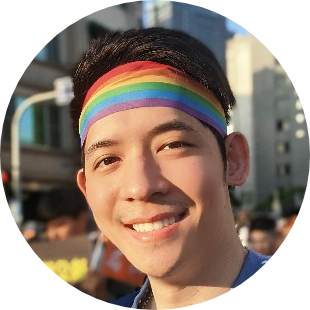 Contributor:
Guzifer Leong
KH Pride Chairman
Taiwan 
---
"In fact the public irrationality brought about by the impact of the epidemic, has not only compressed the space for LGBTQ+ initiatives but also affected other vulnerable rights, such as HIV initiatives."

Guzifer Leong
KH Pride Chairman
We are KH Pride, a spontaneous group of gay parades in Kaohsiung. 2020 was our 11th Pride. KH Pride used to be a local organisation, with a gay parade as its main activity, and was entirely volunteers-led. However, for our 11th Pride, we made some changes. We expanded the scale of the event and it was the first time that an international organization participated. We hope that Kaohsiung can connect more with the world.
Before the Covid-19 outbreak, KH Pride's original arrangement was a series of physical events, and a parade was held on 28 November. However, affected by the pandemic, we decided in March 2020 to change the original six events into online events. After the pandemic subsided in Taiwan in May, we continued to use online live broadcast as the main platform. But we have now organised two film festivals in October and November and a physical gay parade that was held on November 28th.
I guess Taiwan was one of the few countries that can host physical gay parades, so we worked hard to make the gay parade even more grand, around the theme of "We! Around You!".

The "new normal" has not affected Taiwan too much for the time being, but in fact, the public irrationality brought about by the impact of the pandemic has not only compressed the space for LGBTQ+ initiatives, but also affected other vulnerable rights and initiatives, such as HIV initiatives. The greatest alarm for us is that any serious change in our lifestyle may happen suddenly. The best hope for the WorldPride 2021 in Copenhagen is that the pandemic can end, and that everyone can live a happier life.
---
Share this