Contributor:
Anne Lechner
Project Officer: National Policy and Education, ASHM, Australia
---
On June 9th, a webinar Health and human rights for sex workers in Asia and the Pacific in the time of COVID-19 was held by ASHM's Regional Advisory Group of the ASHM Taskforce on BBVs, Sexual Health and COVID-19. The webinar was run in partnership with Scarlett Alliance and APNSW.
The webinar was hosted by Midnight Poonkasetwattana, Executive Director of APCOM and Janelle Fawkes, Former CEO of Scarlet Alliance. The webinar featured panellists, Kay Thi Win, Regional Coordinator of APNSW, Doy Thitiyanun, transgender activist and Director of Sisters, Thailand, and Christopher Lutukivuya, Former Chair of Fiji Network Plus and representative for Strumphet Alliance Network, Fiji.
Click here to watch the recording of the webinar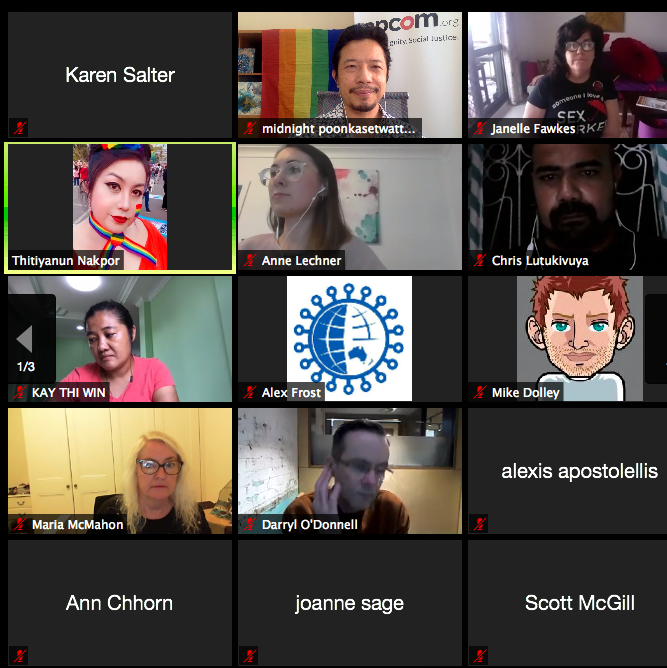 The webinar opened with insightful discussion on issues faced for transgender and migrant sex workers in Pattaya Thailand, cultural taboos and their effects on service provision for sex workers in Fiji, and how the criminalisation of sex work has impacted the health and wellbeing of the sex worker community across the Asia Pacific region.
The webinar also saw panellists reflect on the effects of COVID-19 related curfews and lockdowns on job loss and income loss for sex workers. Across the region, we heard examples of positive community responses which, for example, included the provision of food and basic services and linkage with other health facilities for free STI screening and HIV testing.
As lockdowns lift and many communities across the Asia-Pacific region return to normal, sex workers may continue to face issues of stigma, discrimination and criminalisation. Looking to the future, the panellists highlighted the importance of collaborative and flexible approaches across community, health, government and donor stakeholders.
---
Midnight is the lead of the Key Population arm of ASHM's Regional Advisory Group of the ASHM Taskforce on BBVs, Sexual Health and COVID-19. He also took part in the webinar on 27 April 2020, "What is the new normal for the Asia Pacific?" together with Eamonn Murphy (Regional Director, UNAIDS Asia and the Pacific), and Dr Nittaya Phanuphak, (Chief of Prevention at the Thai Red Cross AIDS Research Centre and IAS Executive Council Asia Pacific Representative.)
Click here to watch the recording of the webinar
---
Share this