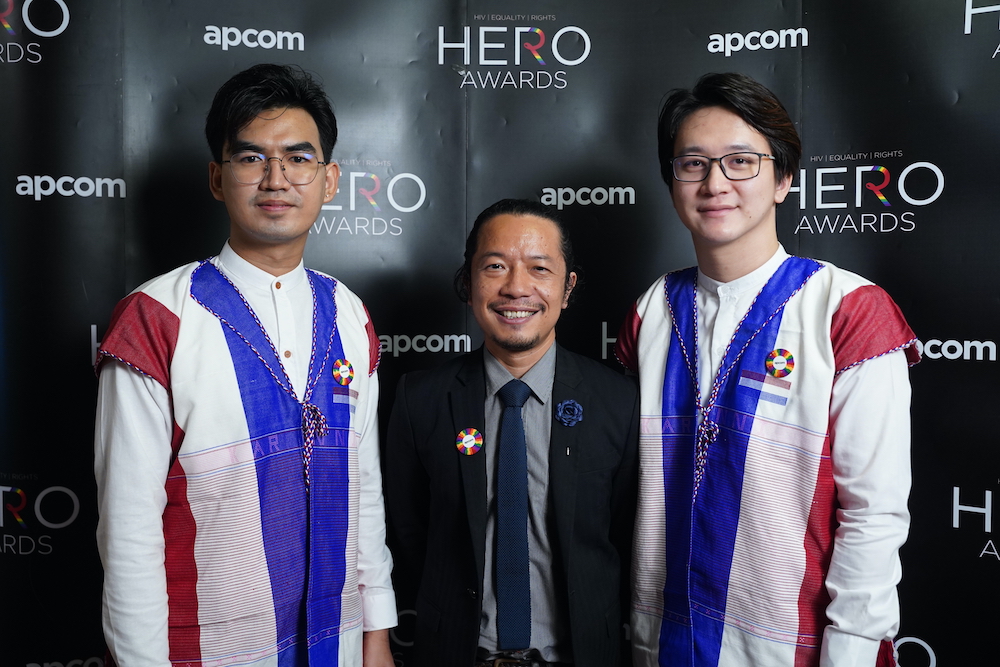 Dr. Pyae Phyo Kyaw and Dr. Aung Soe Tun receive their HERO Awards presented by HE Dr Angela Macdonald PSM, Australian Ambassador to Thailand and Hon. Michael Kirby, APCOM LGBTQI Human Rights Ambassador
"I would like to thank APCOM Executive Director Mr. Midnight and the APCOM family for recognizing individuals and organizations who have contributed to HIV, equality & human rights across the Asia-Pacific region. I am deeply honored to be the recipient of this award. I feel humbled that our little contributions have been recognized to this extent. I would also like to thank the organization who recognized us and nominated us for this award. Unfortunately, at this moment, I cannot mention their name for their safety. Because in Myanmar, simply expressing your opinion whether in the street or on social media, or saving people's lives, or helping refugees, whatever you do, you are at risk of being arrested. Our LGBT friends receive worse treatment in prison.
This is not hearsay.
I have witnessed some cases with my own eyes.
Last year, a fellow doctor who worked in the same charity hospital as I did, got arrested and was sentenced to 10 years in prison, for treating injured protesters and writing a first-aid and emergency care manual for people in the conflict zones. I was lucky that I decided to go to the Karenni IDP camps a few weeks prior.
And 2 days ago, I lost a precious friend from the Karenni State of Myanmar. His name is Htwan. He was like a brother, like a guardian to us. He and his team usually took care of our safety during mobile clinic activities across the state. Now, he died on the battlefield protecting his people against evil. Today, I'm wearing this in honor of him. This is the traditional costume of his people.
As a doctor, all I could do is to save lives, to speak out and help the war victims survive. I am powerless to stop the injustice. I don't want to see people losing their lives. I don't want to see children running among bombs and bullets. I believe the international communities have been trying to help in every way they can. I really appreciate it. But I must say Myanmar people need more awareness and help. Only with your help can we put an end to all these tragedies. Please make the world hear our cries for help! Save Myanmar!
Thank you very much!"
---
Stay tuned for the ticket sales at https://www.apcom.org/
For further information, please visit https://www.apcom.org/hero-awards/
---
About APCOM's HERO Awards:
Meet your Real Heroes
(not any more on your screens)
And join the HERO team on 25 November 2022
#HEROAwards2022 #Unity&Diversity
Interested in sponsoring this event? See our sponsorship package here
please contact: [email protected] or 02-3991145

---
Share this