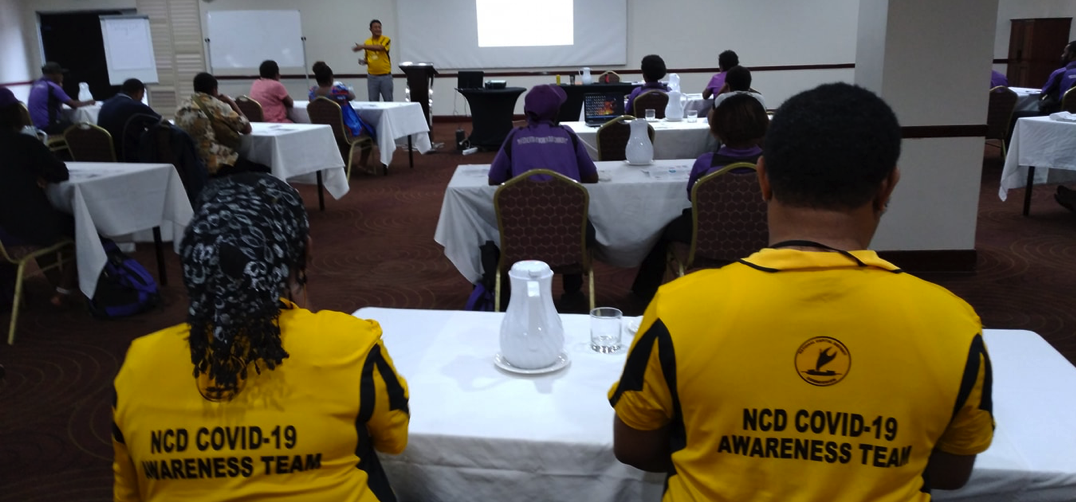 Jonathan Wala of World Vison faciliating the covid-19 training with NCD Peer Outreach Workers of Anglicare PNG.
Contributor:
Lesley Johnnie Bola, Papua New Guinea
---
The Key Population Advocacy Consortium—PNG—comprises of members of Igat Hope (PLHIV), Kapul champions (Men of Diverse sexualities), MSM/TG & Friends Frangipani (sex workers) advocating for issues affecting the networks of vulnerable communities. This is a unique way of working with key populations in Papua New Guinea. The three networks of CBOs reached a consensus in 2018 to form the consortium in order to address common issues, affecting the key populations in Papua New Guinea. We have capacity building programs that enhance our leadership and have built a pool of personal resources to address issues affecting the KP in communities. Further more we have mobilised our champions around Papua New Guinea to support our advocacy programs.
Before COVID-19 hit PNG, what were the work/activities that you/your organsation doing with the community (or planned to do in 2020)?
We had a few major programs which were to be executed in 2020 and included introducing Community-Based Monitoring (CBM) tools to collect data from our communities and service providers. The roll out is still on hold. The collected data will support us in our advocacy interventions, targeting policy makers and other influential leaders.
We have several provincial trips to monitor advocacy programs in seven provinces to strengthen the work of our provincial advocacy programs. These are trips to mentor our KP leaders in communities where they advocate for resources regarding support for KP in each respective province. All these trips have been put on hold.
We have programs to gather KP communities to hold community forums, so that issues can be noted and brought to national level. Unfortunately this has not been happening.
With the effect of COVID-19 outbreak, how did you/your organisation respond to this?
Can you detail the evolving service needs of your community during lockdown, and how community groups are able to address some of the issues?
KP Advocacy Consortium's initial work was to seek support from donors and our government, in order to bring awareness around Covid-19 to our communities. This was through the global fund, World Vision (PR) and sub-recipient (SR) in each high burdened province.
We were able to get HIV outreach workers, trained to deliver prevention messages. Further more we continued to provide our community with short and sharp prevention messages which we got from the WHO.
In addition, the KP Advocacy Consortium in partnership with UNAIDS and the Institute of Medical Research (IMR) conducted a Rapid Assessment of the Needs of People Living with HIV in Papua New Guinea in the context of Coronavirus in June 2020. The common issues shared amongst PLHIV were the following.
Due to the lock down they could not access health centers and clinics were too far from where they live. People were isolated and some expressed concerns about gender based violence (GBV) within their family settings.
The KP Advocacy Consortium continues to encourage KP communities to follow messages and regular updates regarding prevention on the coronavirus in PNG, via the KP Advocacy Consortium's Facebook and emails.
What were the issues that your community in PNG experienced during this time? What were the main gaps that you/your organisation was not able to address?
Some of the main issues are the following.
PLHIV are struggling to get to clinics in order to get their ART drugs due to logistical issues, e.g. transportation or transport fares. When there is a shut down, all the public transport remains non active.
Some HIV positive people are concerned about catching the coronavirus whilst already being HIV positive. They are feeling depressed and isolated.
Our sex workers are not able to continue their work due to restrictions. They have been stigmatised for bringing the coronavirus to the communities and are as a result rejected by communities and their own families.
Most of our communities are not reached with information due to the communication barriers and logistical constraints.
Some of the gaps include:
Lack of consistent communication with our communities due to lack of funds for internet data or outreach
Transportation issues, especially during lock down
We still must conduct workshops around the coronavirus for other people who have not been reached
Lack of commodities, e.g. masks and sanitisers, including promotional materials
How have you, staff, and volunteers working for the NGOs been able to stay safe from COVID-19?
We have been following all the basic rules, e.g. social distancing, consistently wearing masks, washing hands with sanitisers, coughing into ones own elbow, and avoiding large gatherings etc.
Those of us who are working, have been limiting their time at the office with a small number of staff members. Most of our communication with partners and individuals happen virtually.
As PNG has come out of the lockdowns, what services will your community continue to require, and what would you cease, and what would you add?
We will need to ask communities if they need to access mental health services, gender-based violence services or health checkup. Communities need peer support and to be able to access counselling.
We would cease very big workshops like symposiums or gatherings which host over a 30 participants. Most of our meetings will be virtual rather than gathering at one table with more than 10 people.
We would add extra funding on Covid-19 as we might get a second wave, so we must be prepared. We have people traveling in and out, therefore we have to be extra careful with getting in physical contact with others. 



How has COVID-19 outbreak changed the way that you/your organisation and other NGOs will be working in the future?
It will change a lot in the way we do things. We will have to adapt to the new norm of living with coronavirus. It will limit our travel internationally and domestically.
Perhaps we may not complete all our plans and programs, so we will have to rearrange our work plans.
Furthermore, will need to get the attention of our government to still support HIV and TB as the focus is now on the coronavirus. Nevertheless, we continue to advocate for our government to support ART drugs, commodities-like condoms-, testing kits, STI drugs and basic services.
What are the worries from your community about the 'new normal'?
The new "normal" means to us, that things are not the same as before around the world and in our country. There will be shifts in funding and resources so we have to refocus some of our activities. We need to adapt ourselves to new ways of interacting and working with our communities.
The limitation of people physically gathering at one spot is a big change. People will be encouraged to go virtual as a new means of meeting.
We also need to plan well for ourselves, by checking if our ART drugs are delivered on time in case there is a lock down. We need to advocate for at least 6 months supply for those living from a far distance. Further more we need to start delivering ART drugs to people who cannot afford to travel to clinics.
Are there any positive lessons learnt from the effects of COVID-19?
Covid-19 has encouraged everyone to work together and to take care of basic health. The pandemic has also strengthened our capacity to use internet and to communicate with people around the world which can be a cheap measure. Further more it has lead partners to work together and to share resources.
Anything else you wish to add?
I would like to thank our regional partners in Asia-Pacific who have been in touch with us in Papua New Guinea to support us in any form. We really appreciate your commitment to include us.
---
Share this