In partnership with The Canadian Embassy in Thailand, The Securities and Exchange Commission Thailand, and APCOM
Missed our end of Pride Month webinar on 30 June 2021 on LGBTQI inclusion in Thailand as we chart a path toward Bangkok Pride 2.0 in 2022?
Listen (in Thai) to perspectives from the Thai LGBTQI community, government, the private sector and contribute to the search for opportunities to work together across multiple sectors to celebrate and advance LGBTQI inclusion in Thailand.
HE Ambassador Dr. Sarah Taylor, welcomes all participants, panelists and speakers in the session, and thank you the organisers. Ambassador Taylor expresses strong support to gender equality. Although the COVID-19 situation limits social gathering, but hopes that the situation will recover soon. Moreover, how can we contribute LGBTQI diversity and inclusion for all dimensions without discrimination as Canada also plays the key role in Equal Rights Coalition (ERC) Global Conference with the standpoint of supporting LGBTQI equality. One of the challenges is how can we move forward for LGBTQI rights, especially in the private sector as diversity and inclusion in the private sector is an important space. Businesses can grow with new ideas and innovation – for all people without discrimination.
Dr. Nattavut Pimpa, an associate professor in international management from Mahidol University, and the moderator of this session welcomes audiences. Dr. Nattavut expresses his gratitude to the audience for participating this session. He spoke about Pride Month celebrations around the world, and progress made so far, and how can we push and support LGBTQI diversity and inclusion within the sustainable development. Furthermore, with the COVID-19 situation that has affected people's lives and it also impacts the vulnerable population the most in their daily life.
Khun Ruenvadee Suwanmongkol, SEC Secretary-General, expresses concern regarding LGBTQI people during the pandemic. From the COVID-19 survey of LGBTI Community in Thailand by UNDP and APTN indicates that COVID-19 significantly affects LGBTQI people; more than 50% lose their job. Regarding this matter, how can we deal with this situation?
According to Boston Consulting Group, LGBTQI diversity and inclusion will provide benefits to the economy. It does not only attract high-skilled labors to the company, but also creates positive dynamism from customers and stakeholders. Consequently, it benefits all dimensions.
SET Thailand also supports on gender equality, and we advocate this to the private sectors in Thailand. from January 2022, SET Thailand assigns 700 registered private sectors to contribute sustainability report. We believe that it will accelerate supporting LGBTQI gender equality with sustainability and accomplish United Nations' Sustainable Development Goal by 2030.
Khun Nareeluc Pairchaiyaphum, from Rights and Liberties Protection Department (RLPD) of Ministry of Justice, also mentions about 4th Thailand's National Human Rights Plan, which is the tool to promote all dimensions of rights, freedoms, and equality, taking into consideration human dignity with a view to attaining a peaceful society. This plan also covers addressing violence and discrimination towards LGBTQI people as one of the key areas of the Plan. For the private sectors, LGBTQI people's protection is in Plan on workers that consists of dress code, suitable area, verbal, appropriate verbal and non-verbal expression, job qualification, sexual harassment, and equality for position selection.
Gender Equality Act of 2015, and Civil Partnership Bill has reflected on what LGBTQI people needs for their principal basis. There are many things that we must work on it. The next action plan would be organizing focal group discussion with LGBTQI people to find the ideas to strengthen our policy. Including providing good understanding to officers and general people through media, or training especially the law enforcement officers and stakeholders. We must build the good understanding to the public.
Rights and Liberties Protection Department (RLPD), in cooperation with National Broadcasting and Telecommunication (NBTC), we have developed the guideline of presenting news about LGBTQI people by focusing on the word use, considering the context according to their gender identity. Moreover, our organization also supports LGBTQI Diversity and Inclusion in all dimensions: policies, goods and products, equality job qualification, rights and welfare, knowledge management, grievance procedures, and remedy procedures. Now we are attempting to include building LGBTQI Friendly Business network as we also give priority to Diversity and Inclusion in private sectors.
Khun Araya Sooksom, from the Faculty of Humanities and Social Sciences, Songkhla Rajabhat University, and a member of Committee on Consideration of Unfair Gender Discrimination ("WorLorPor" in Thai), mentions about the milestone of Gender Equality Act of 2015 as it had been taking time until the successful implementation today. However, among of all law enforcement, Constitutional of Thailand is still the main stake as it is the first stage to implement LGBTQI equality law. It is to say, Gender Equality Act is defined under the Constitution of Thailand.
Speaking of Gender Equality Act, the main propose is implementing law enforcement that consists of these elements: Policy Making and Implementing by Gender Equality Promotion Committee, deciding the case and establishing measures for protection by Committee on Consideration of Unfair Gender Discrimination, and Remedy Procedures implementing and supporting fund for promotion against discrimination by Gender Equality Promotion Fund. However, considering the legal implementation from the Act, Section 3:
 "Unfair gender discrimination" means any act or omission of the act which causes division, discrimination, or limitation of any right and benefit either directly or indirectly without justification due to the fact that the person is male or female or of a different appearance from his/her own sex by birth. 
And Section 17:
The establishment of policy, rule, regulation, notification, project, or procedures either by government agencies or private organizations or any individual with the characteristics of unfair gender discrimination shall not be permitted.  
This highlighted indicates that Gender Equality Act also works on against discrimination towards LGBTQI people. However, there is the leak point of making this Act to be inclusive equality as of Section 17 paragraph 2:
The implementation of paragraph one to eliminate the obstacles or to encourage the persons to exercise their rights and freedom as other persons, or for protection of the persons' safety and welfare, or for the compliance with religious principles, or for the national security shall not be deemed unfair gender discrimination. 
In the private sector side, most cases found is discrimination in job hiring and passing the probation period. Moreover, the discrimination on services as not allowing transgender to use the service. These problems need to be solved by strengthening law enforcement, also remedy procedures to the people who were discriminated.
"If the private sectors adjust their mindset, diversity and inclusion will happen sooner".

Khun Araya Sooksom
Khun Winita Kultangwatana, Director at Securities and Exchange Commission, Thailand, also addresses regarding the good governance of the private sectors can be implied from the contributed "56-1 One Report ". This report will be an evidence that leads to the appropriated policy making and transparency for stakeholders in the sustainable development way.
56-1 One Report significantly highlights "Social Responsibility" as driving business for "Sustainable Development". Thus, it is necessary to reveal significant information regarding sustainability in Environmental, Social, and Governance "ESG-in-progress". 56-1 One report will be delivered to Ministry of Finance in Thailand.
LGBTQI Diversity and Inclusion is one of the main themes as "Social dimension Management". It directly responses to Human Rights concern.
SEC Thailand also works on this issue to response the 2030's Sustainable Development Goals with these principals following: Implement strategics and visions with no discrimination against Sexual Orientation and Gender Identity, increasing good understandings, prioritizing, monitoring and evaluation, and reporting to the stakeholders.
Khun Tossaporn Kornkit, Manager of Branding Communications from Sansiri – one of the largest real estate developers in Thailand, shares the story of Sansiri's the first milestone in social responsibility. From working to end the poverty, it expands to diversity of gender equality. Sansiri also has co-signed in the United Nations Global Standards of Conduct for Business to tackle discrimination against lesbian, gay, bisexual, transgender, and intersex (LGBTI) people. This year of 2021, Sansiri has launched the campaign to celebrate Pride Month with the concept "Sansiri Live Equally" to addresses all people that we are equals.
Not only for this Pride Month, Sansiri plans for strengthening LGBTQI Diversity and Inclusion through LGBTQI friendly environment starting from the organization, for instance, Universal Design space for all, LGBTQI restroom, etc. Sansiri also supports on training for good understanding, monitoring and evaluation in the organization. Expanding to the community, Sansiri pays attention to the customers without gender discrimination. Moreover, we will make the strong connection to push forward on LGBTQI Diversity and Inclusion to contribute the diversity in all dimensions.
Khun Jay Pongruengphant, Project Manager – Gender Equality and Social Inclusion, UNDP Thailand, presents the United Nations Global Standards of Conduct for Business, which aims to tackle discrimination against lesbian, gay, bisexual, transgender, and intersex (LGBTI) people. The Standards, produced in collaboration with the Institute for Human Rights and Business, builds on the UN Guiding Principles on Business and Human Rights and reflect the input of hundreds of companies across diverse sectors.
Jay explains that this Standards cover all areas: At All Times, In the Workplace, In the Marketplace, and In the Community.
At All Time area, Respect Human Rights is the principal. Private sectors should develop policies, exercise due diligence, and remediate adverse impacts to ensure they respect human rights of LGBTQI people.
In the workplace, Private sectors should ensure that there is no discrimination in their recruitment, employment, working conditions, benefits, respect for privacy, or treatment of harassment, also they should provide a positive, affirmative environment so that LGBTQI employees can work with dignity and without stigma.
In the marketplace, Private sectors should not discriminate against LGBTI suppliers, distributors, or customers, and should use their leverage to prevent discrimination and related abuses by their business partners.
In the community, Private sectors are encouraged to contribute to stopping human rights abuses in the countries in which they operate. They also should support public advocacy, collective action, social dialogue, LGBTI organizations, and challenging abusive government actions.
Addressing to the organization, it is necessary to provide Code of Conduct as the rules, also implementing the Committee to monitoring and report situation. Human Resources and recruitment unit must have good understanding in LGBTQI Diversity and Inclusion. All issues should be able to implement in practice, for instance, LGBTQI friendly environment, non-binary gender dress code, save spaces for LGBTQI, and preferred pronoun. Employees also should get healthcare support from the organization, including their same sex partner. Moreover, promoting on LGBTQI Diversity and Inclusion should be implemented through organization's media platforms.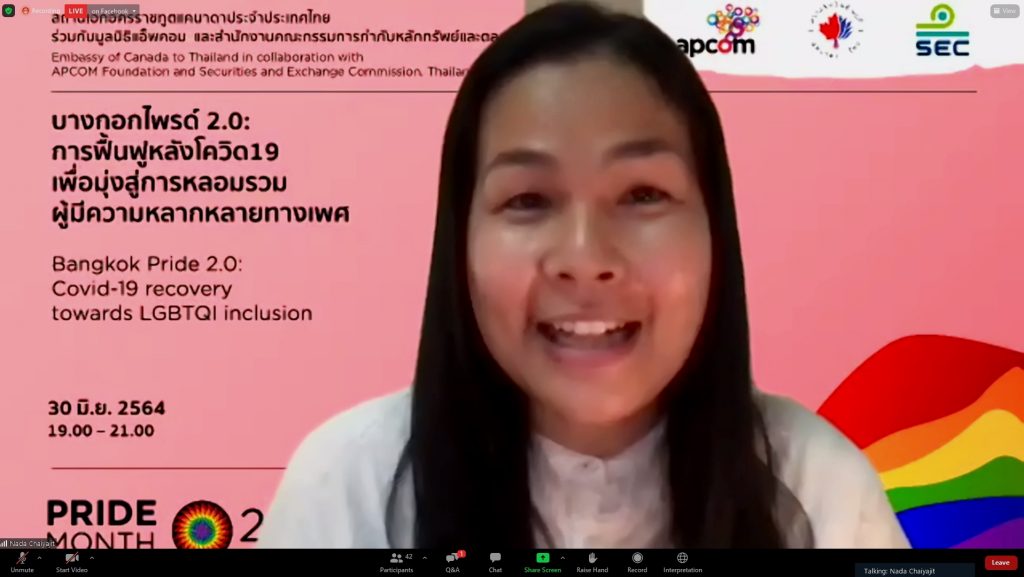 Khun Nada Chaiyajit, gender activist from Thailand, also share her valuable experience working on LGBTQI advocacy in Thailand from a very personal experience; from being discriminated, fighting, and finally, won a case to the freedom of expression in gender identity. As now transgender students can wear the uniform according to gender identity preferred by individuals in class, and for their graduation ceremony.
Change at the grassroot level will take a long time. Even now during Pride Month, there are some discrimination cases still happening, for instance, discrimination in job recruitment, also sexual harassment in the big department store, etc.
Nada also mentions to the government sectors that some working plan is well implemented, but it does not reach to the business sectors.
"If the Gender Equality Act is working in practice as covering to Human Rights protection, it will surely be benefit to us. It is better than investing in LGBTQI campaign promotion with a lot of money".

Khun Nada Chaiyajit
Nada addresses to the next point of LGBTQI Diversity and Inclusion to be more effective on how to bring Code of Conducts to the other private sectors, especially in the grassroot level. As she believes that the real voice from employees, rather than Human Resources or policy makers, is particularly important to generate new ideas and innovations – to make the real Diversity and Inclusion happen.
Before closing the session, Midnight Poonkasetwattana, Executive Director of APCOM Foundation, expresses his gratitude to all panelists and audiences. He also addresses to everyone that now it is the right time for the civil organizations, government, and private sectors to gather and move forward together.
COVID-19 has been enduring for years and it affects all people, especially the people in the grassroot level. Thus, civil organizations are the keys to play the vital role to help the target people.
Midnight mentions to the cooperation among 15 Thai community-based organizations on emergency support to the vulnerable people. Many activities were implemented, for instance, emergency supplies donation, the first Thailand LGBTQI+ Biz Forum, Pride month talk sessions on LGBTQI rights and COVID-19 – voice from the vulnerable people, as the beginning step to our Bangkok Pride 2022, and our good cooperation in nearly future.
Share this