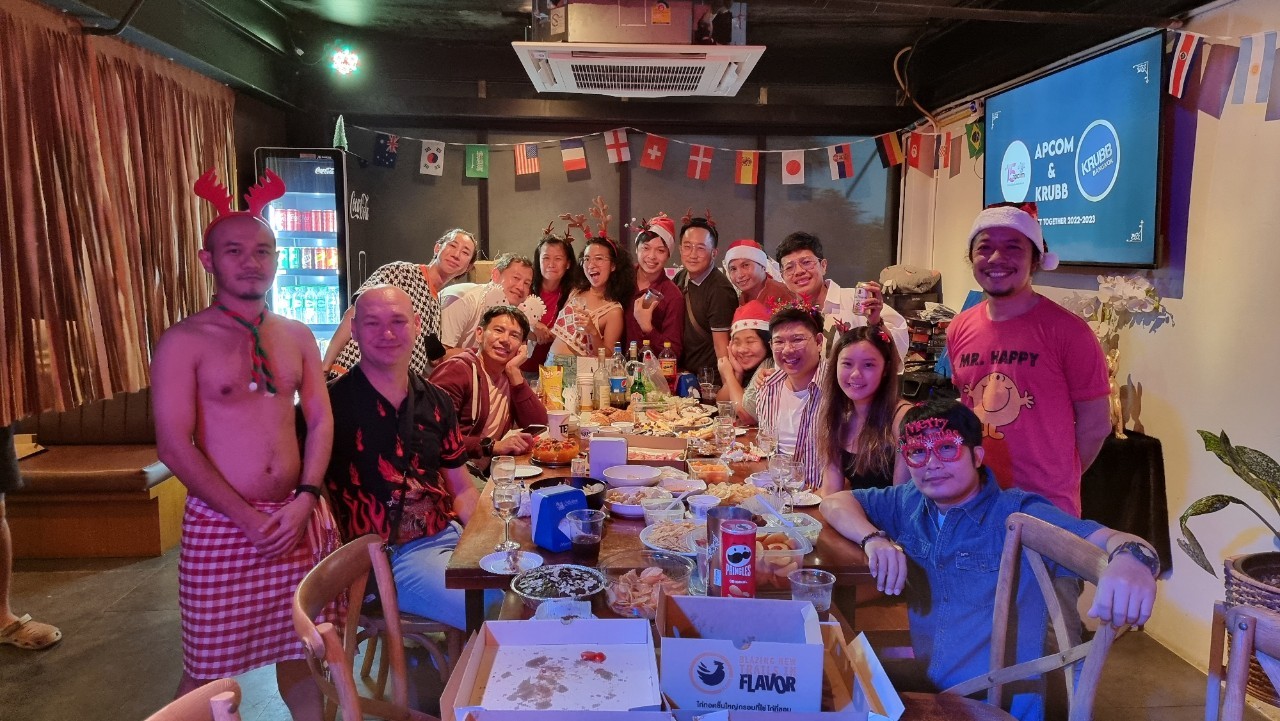 19 December 2022, this year APCOM's Christmas party was hosted by KRUBB Bangkok, where is men's only Social Club, Sauna, Gym, Adult Playground, and Fun House at Bangkok. KRUBB Bangkok is also one of our partners that supports LGBTQI rights and communities in Thailand and has been working with APCOM in the events and testBKK campaign.
"I remembered when I was invited to HERO Awards 2022 at the Australian Embassy on 25 Nov 2022, I saw that APCOM's staff work so hard to create and fulfil the little gaps in this world for vulnerable groups so that they have exists and better quality of lives. They can really choose to do anything, but they choose to work for this communities that makes the world happier for equality. This is really inspiring and matches well with the foundation's goal of KRUBB Bangkok. In fact, we also have our 3S responsibilities to do, which is to support, shout, and be safe space for LGBTQI communities.

Therefore, we would love to take this opportunity to host the party in order to thank you all of the staff and create the bridge between APCOM and us for further collaborations. On behalf of everyone, we would also like to give compliments and thank you APCOM Foundation for helping the society, doing great works throughout the past 15 years. Happy Birthday APCOM for this 15 th Anniversary and we look forward to seeing more great works from APCOM in the future."

Akkraset Chawengchinnawong, Board Member of KRUBB Bangkok
"Thank you so much to the management of KRUBB Bangkok for hosting the APCOM year end party to say thank you to our staff. We are grateful for this partnership with the private sector – and thank you to KRUBB Bangkok for taking an active part in all our activities.

There's so much that we can collaborate together in 2023 on HIV and to advance human rights of LGBTQI while empowering and strengthening communities together. 

The party was a blast and very memorable, and we look forward to celebrating small wins and successes together."

Midnight Poonkasetwattana, Executive Director of APCOM Foundation
During the event, all of the staff enjoyed tasty food and beverages, while we had exciting gift exchange, exclusive lucky draw, enjoyable chatting, and memorable group hugs. Above of all, we got more energy from the party and we can ensure that there are a lot more activities and parties for our communities to come. But for now, Merry Christmas!
---
Share this