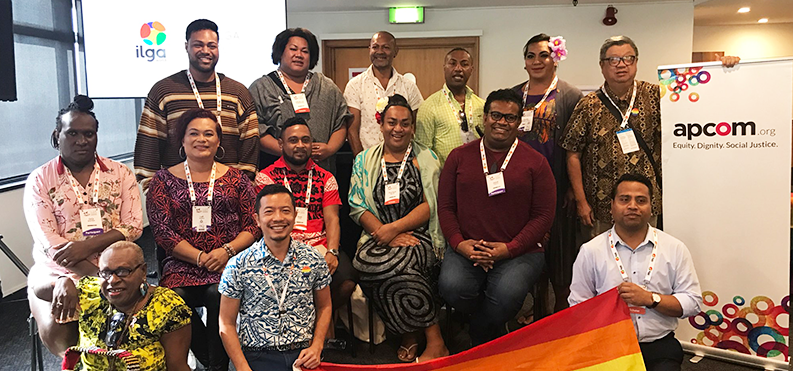 In the lead up to the recent ILGA World Conference in New Zealand, APCOM partnered with the Pacific Sexual and Gender Diversity Network (PSGDN) and Haus of Khameleon to conduct a pre-conference session focusing on opportunities to end HIV among people of diverse sexual orientation, gender identity and expression and sex characteristics (SOGIESC). The session also considered how collaboration could be strengthened between community organisations in Asia and the Pacific.
The objective of the session was to highlight the urgency for policy/legislative reforms, data collection and investments in the HIV response for SOGIESC in the Pacific with the aim of ending HIV as a public health threat by 2030 and fulfilling the United Nation's 2030-Agenda promise of leaving no-one behind.
The groups who participated in the sessions included the Samoa Fa'afafine Association, Vanuatu's V Pride, Fiji's Rainbow Pride Foundation, the Tonga Leitis Association, the Fiji Network of People Living With HIV, BIMBA from Kiribati, Papua New Guinea's Kapul Champions, and the Te Tiare Association from the Cook Islands. The session was co-faciliated by Isikeli Vulavou, Executive Director of the PSGDN and also APCOM's Regional Advisory Group member, and Dr. Leli Darling, Board member of Haus of Khameleon.
The main message is that the lack of domestic investments in HIV programs is huge worry for the community in the Pacific with many countries heavily dependent on donor funding. The Call to Action is for governments to start thinking about how they can prioritise and invest in HIV prevention, treatment, care and support activities particularly for LGBTI or key populations-focused organisations. The community must be active to pursue this with their respective governments, and also lobby at the regional and global level for more HIV funding.
We've put together a short summary of the content shared by representatives from these organisations.
Vanuatu (Gigilio Baxter, V Pride)
Gigilio said that with support from the Global Fund, V Pride has recently undertaken several initiatives such as mapping of key affected populations, increased condom distribution, and new testing and counselling programs. However, he said increasing testing rates in Vanuatu involves overcoming some significant challenges such as dispersed island populations, stigmatization of key affected populations and low health literacy. He said key affected populations – including sex workers – were less likely to regularly test for HIV because of stigma, fear of confidentiality breaches, lack of transport and inconvenient clinic hours. He said risk factors for HIV transmission in Vanuatu include high rates of STIs and low condom usage.
Tonga (Agabe Love, Tonga Leitis Association)
Agabe said one of the biggest challenges facing HIV advocates in Tonga is the criminalization of homosexuality, with a maximum penalty of 10 years imprisonment. She said this brings a lot of challenges in dealing with HIV, particularly among key affected populations. A little over two years ago, the Tonga Leitis Association launched a national consultation with government officials in order to decriminalize homosexuality and cross-dressing in Tonga. Agabe said the legislation is still being drafted. As with mostPacific countries, social stigmatization and discrimination continue to be a barrier to HIV prevention for SOGIESC people with many not seeking relevant health care, testing and treatment. Agabe said criminalization laws also make health promotion campaigns using TV, radio and other mass media difficult and challenging. This has involved the Tonga Leitis Association using innovative ways to connect with at risk populations. These include outreach programs targeting sea fearers and boat cruises, as well as using the annual Miss Galaxy Queen Pageant as a forum for advocacy and awareness raising.
Fiji (Joeli Colati, Fiji Network of People Living with HIV | Simione Tuni, Rainbow Pride Foundation)
Joeli said Fiji's HIV response has become much more progressive following the country's 2011 HIV decree which will soon be reviewed to better align it with the Ministry of Health's recently developed National HIV Strategy. Fiji has just under 1000 people living with HIV, with 120 new diagnoses made in 2018. He said data shows an increase in infections among key affected populations, particularly among men who have sex with men. Joeli said successful HIV prevention initiatives undertaken in Fiji include distribution of condoms to nightclubs, increased awareness campaigns and new HIV testing programs.
Simione said the Rainbow Pride Foundation has recently re-strategized and is now working on targeting faith-based organisations to increase acceptance of SOGIESC people as well as understanding of their health needs. He said RPF is using a humanitarian approach rather than a human rights focus to influence change. He said a key advocacy tool for them is the newly produced Down By The River report produced by Edge Effect with RPF and OXFAM Pacific.
Cook Islands (Shaniqua Ngaoire – Te Tiare Association)
Shaniqua said the Te Tiare Association is currently working on the decriminalization of homosexuality in the Cook Islands. She said the draft bill is yet to be passed by the Cook Islands parliament because of frequent changes in the government. She said some of the challenges faced by HIV advocates in the Cook Islands include using the right language/words in advocacy and awareness work, a lack of funds, and low capacity among relevant government agencies and community organisations.
Kiribati (Tebeio Tamton – BIMBA)
Tabeio said that BIMBA works with the Kiribati Ministry Of Health to improve the local response to HIV. He said that with the support of the Global Fund, BIMBA has been able to set up a drop-in center for HIV testing. However, the future of the centre is unclear as funding from the Global Fund has finished. Tabeio said other challenges faced by HIV advocates in Kiribati include a lack of HIV education and awareness, high levels of stigma and discrimination against key affected populations, and a lack of capacity among civil society organisations and the Ministry of Health.
Papua New Guinea (Parker Hou– Kapul Champions)
Parker said lack of funding for Key Populations HIV programs is the biggest issue in PNG with Australia's Department of Foreign Affairs and Trade redirecting funding from HIV to focus on TB and malaria. This has resulted in the leading community-based HIV organizations in PNG forming a coalition to build capacity and access further funding. He also said another huge barrier for HIV prevention and treatment in PNG is language. PNG has more than 830 living languages and diversity of cultures, Parker said this makes communication, awareness raising, education and advocacy around HIV extremely difficult.
Samoa (Ashley Lauano – Samoa Fa'afafine Association)
Ashley said the Samoan Faafafine Association is involved in a range of activities focused on the prevention and treatment of HIV. She said the biggest challenge her team faces is low levels of testing among the key affected populations due to stigma, discrimination and the criminalization of homosexuality. She said data collection is another significant issue because of low testing rates, especially in rural and remote areas.
Share this