---
SHIVANANDA DUNCAN GEORGE KHAN, OBE
(JUNE 6, 1948 – MAY 20, 2013)
Committed, passionate, inspiring, nurturing, visionary. Shivananda Khan was all of these, as he forged a pioneering path across the decades in helping achieve rights and equality for LGBT individuals and communities in diverse geographies and sociocultural environments from Europe to Asia and the Pacific. His death on May 20, 2013, in Lucknow, India, has robbed his organisation Naz Foundation International (NFI) of its charismatic leader, and has deeply shaken the many other organisations he helped nurture over the years, including the Asia Pacific Coalition on Male Sexual Health (APCOM).
"Shiv was a key founder of APCOM, bringing together governments, the UN system and civil society to help ensure that the critical issue of HIV among MSM and transgender communities was included high on health and social development agendas across Asia and the Pacific region," noted Dédé Oetomo of Indonesia who succeeded Khan as APCOM Chair. "While Shiv's critical health issues prevented him from participating fully in APCOM over the past couple of years, we'd been hoping he would recover and continue to provide moral and advisory support to us as APCOM continues to strengthen its role and demonstrates true impact on the ground. Shiv was not only a colleague but a friend, and I, along with so many around the world, will miss him dearly."
Born Duncan George Khan to an Indian family encompassing diverse religious and ethnic identities, Shiv, as the world knew him, established himself as a trailblazing LGBT rights advocate in London, England, in the early 1990s, where he focused on communities and individuals within the South Asian diaspora who were vulnerable to HIV. Inspired by the death of a close friend to AIDS against the backdrop of homophobia and its deleterious impact on how governments and the health care sector initially addressed HIV, Shiv worked to ensure that health – including access to HIV prevention, treatment and care – was seen as a human right for all, including men who have sex with men. Shiv's work was eventually honoured by the United Kingdom which awarded him the Order of the British Empire in 2005, an honorific he affixed proudly to his signature thereafter: "Shivananda Khan, OBE".
Having worked with South Asian MSM in the UK, Shiv turned his attention to India and the wider South Asian region itself, setting up an NFI office in Lucknow from where he began to address the complexity of MSM issues that needed to be thoroughly understood in order to effectively tackle the HIV challenge in countries as diverse as Nepal and Bhutan, Sri Lanka and Bangladesh, Afghanistan and Pakistan.
As Shiv explained in an interview, "I suddenly started realising that there are several issues. One is culture — it is very hard (for most men) to find girlfriends and sexual partners. So there wasn't this division between men, between what they do with their bodies and with whom they do it with. It wasn't whether 'I was doing homosexual sex or heterosexual sex, I am just doing sex.' There was the whole concept of 'masti' (fun), that 'this is not sex anyway and the only 'real sex' I am going to do is with my wife. All of this was staring at me, and we started counting in numbers and we realised that male-to-male sex is very common in our country for a whole host of reasons compared to western countries, which meant that the risk of HIV transmission was higher in our country. Unless we change the construction of the way we see gender, sexualities and masculinities and femininities, we are never going to deal with the issues of HIV. Having a gay identity is very much linked to class, income, it's not a generic framework. The advantage of my education, my multi-ethnic background and my anger at how we have been treated as human beings –all of these became like a well-cooked soufflé."
Armed with considerable knowledge and personal involvement on the frontlines, Shiv was a natural fit when it came to putting together a coalition of MSM activists and organisations from across Asia and the Pacific, along with government representatives and key United Nations system stakeholders working on HIV. Edmund Settle, HIV Policy Advisor for UNDP Asia-Pacific Regional Centre, worked closely with Shiv on a landmark gathering of coalition partners in New Delhi in 2006, a meeting which helped lay the foundation of what would eventually become APCOM and place MSM and transgender HIV and health rights firmly on the development agenda Asia and the Pacific. "Shiv was incredibly well connected in South Asia and around the world," noted Settle. "His ability to attract and nurture new community leaders, and inspire hope among individuals who are highly discriminated against will remain unequal. Shiv was a mentor, a friend and a guru. He will be deeply missed."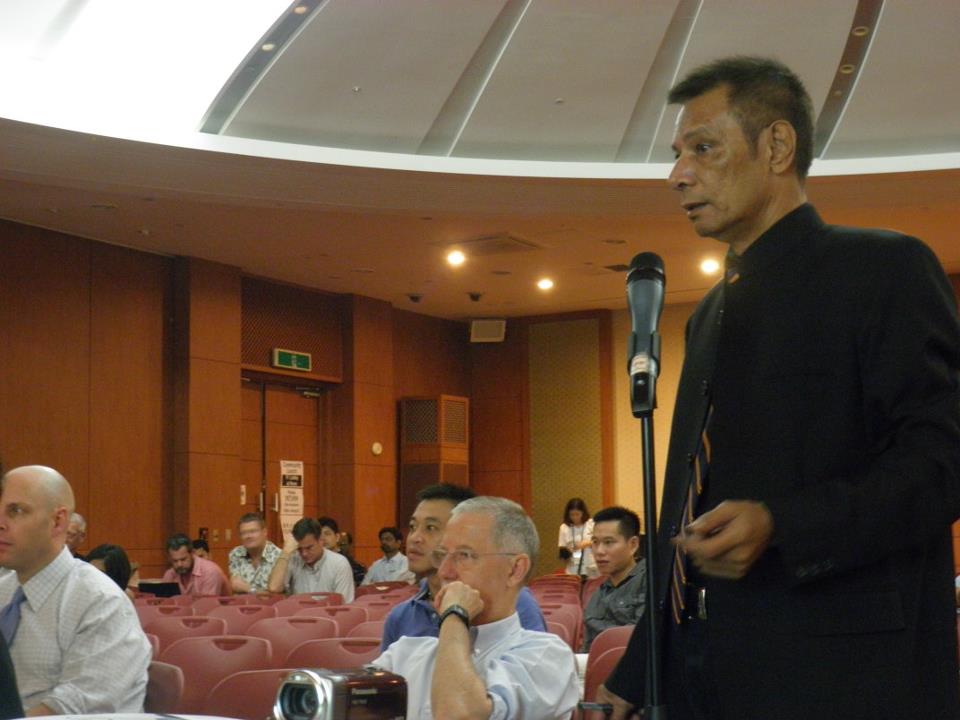 One such activist who was long associated with Shiv is Sunil Babu Pant, the founder of the Blue Diamond Society in Nepal, an organisation that has achieved significant success in establishing LGBT rights in that Himalayan nation. Pant's condolence message via e-mail is just one of dozens received from civil society, government, academic and UN officials: "Really sad indeed to hear this news. Shiv generated knowledge, trained and help to build capacity of many MSMs in the region and internationally. My sincere and deep-felt condolences! What a great loss to all of us."
The loss is all the more personal and profound for Shiv's long-time partner Ravindra (Ravi) Yadav, who was his companion in Lucknow these past several years and who nursed Shiv through his several bouts of ill health. "Shiv once discussed the few great loves of his life with me one evening in Lucknow a few years back, when our conversation veered from work issues to the personal", reminisced Roy Wadia, APCOM Vice Chair and Communications Advisor. "There's no doubt that in Ravi he'd found his ideal companion. Despite their considerable age difference, theirs was a relationship of equals. Shiv adored and respected Ravi who in turn served as an anchor in many ways for Shiv. At the 2011 ICAAP in Busan, Shiv acknowledged Ravi, who was present, to the audience attending APCOM's forum, a truly emotional moment for a man who rarely displayed his emotions in public."
In a 2006 interview, Shiv was asked to gauge progress from NFI's perspective regarding MSM-related HIV and rights issues. "I'll illustrate it in a very simple way," he said. "When our staff members were arrested in 2001, the response of the National AIDS Control Organisation and UNAIDS in India was very quiet and muted. We were told to do everything behind the scenes with the government. When we had a threat in 2006, UNAIDS Geneva, UNAIDS India, and NACO came out more publicly with support. And UNAIDS for the first time sent out a press release condemning potential arrests and harassment of people. NACO made a positive statement. They sent somebody to the city to talk to the police. That is an enormous change for the government here. So, yes, more money is coming in, understanding is growing, more projects are available, and there's more political and international support. I think we have some good news. We're not going backwards, we're moving forward. Maybe the train is picking up pace now."
"Shiv was indeed a key component of the engine that has helped propel that train of progress not only in Asia and the Pacific, but whose influence has been felt globally," concluded Midnight Poonkasetwattana, APCOM Executive Director." Thank you Shiv, from all of us at APCOM and your friends and colleagues the world over for having laid such a strong foundation upon which we are committed to building a truly strong structure. You will never be forgotten."
---
Share this