---
In 1999, I came to Thailand to spend two months traveling around the country while on sabbatical from my HIV work in San Francisco. I searched for Thai-language AIDS prevention materials to share with Thai people I was meeting, particularly Thai gay men, to both explain my work and to educate on prevention. I found only one pamphlet but it did not seem to be useful or accurate. Certain that it was only my poor language skills, when I returned in early 2002 to relocate to Bangkok, I asked a friend and colleague who was then working internationally in HIV to please refer me to a local gay HIV group where I might volunteer while I was settling into my new country. He said, "In Thailand? There isn't any!"
Thailand, even though it had the highest per capita HIV burden in the region, was not all that different from other countries around the Asia and Pacific regions at that time regarding neglect of effective responses to HIV amongst men who have sex with men, including gay men. The reasons were both simple and complex. General discomfort with the fact of sex amongst men and their specific risk behaviours, meant government and national AIDS priorities avoided including data gathering for this sub-population, at least prior to the year 2000. As a result, the logic of a vicious circle was being followed: no data meant there must be no problem and therefore no interventions, no research and no surveillance were undertaken.  This assured there would be no documentation of need or of risk behaviours and therefore, again, no data meant there must be no problem.
In fact, there were a few small community groups of gay, bisexual men and transgender women in major urban areas organising in 2002 (mostly unknown to Westerners), as well as some HIV direct care services at the Thai Red Cross and some city health centres for those MSM living with HIV. There were also some HIV and population control professionals starting to call attention to this neglected situation. All were aware that HIV had devasted the gay/bisexual male populations in the West, including Australia and New Zealand, especially in urban centres and that it was likely to be repeated quickly in Asia Pacific unless actions were taken.
At AIDS 2004, the XV International AIDS Conference in Bangkok, some side meetings were conducted with specialists and community members from around the region. A consensus document The Bangkok Declaration 2004: Leadership Statement[1]was released, calling for increased attention to the neglected issue of HIV amongst gay, bisexual and transgender women[2].
Straight away, two international processes were developed: one donor-driven for the Greater Mekong Sub-region (GMS) in Bangkok, Thailand and one community-driven and region-wide (Asia and the Pacific). Both provided frameworks and context strengthening for MSM and transgender advocacy by adding surveillance, increasing knowledge development and research; and improving the response to HIV. This allowed most national governments in the region to support – or at least not to oppose or suppress – the development of HIV programmes for MSM and transgender people. The two processes culminated in the creation of the Purple Sky Network, a coordination effort for MSM and HIV interventions in the GMS, and Risks and Responsibilities International Consultation (RR), which later gave birth to the Asia Pacific Coalition on Male Sexual Health (APCOM).
For the GMS, a technical advisory committee undertook an inventory of all known INGOs and governments with MSM HIV interventions in each of the six countries[3]. Researchers were asked to compile current data on prevalence/incidence of HIV among MSM. Technical experts reviewed what was known about the communities of MSM such as patterns and methods of self-identity, commonalities and differences, the legal situation for each community in different countries, attitudes of public and private health systems and general societal attitudes towards same sex-identifying persons.
For the RR process in Delhi, India, some significantly different and highly effective activities were undertaken. With the logistical support from UNAIDS-India and technical support from the UNAIDS Regional Support Team (RST), the vast network of the UN system was made available for data development. An in-country process was undertaken with guidance from each UN HIV focal point from either UNAIDS or from WHO, UNDP or UNFPA. RR chose to establish seven different sub-regions or areas to which each country was assigned: Developed Asia, Greater Mekong (minus China), the Pacific, South Asia (minus India), Southeast Asia (minus the GMS) and, due to the size of populations, two country "sub-regions", China and India. After three days of plenaries, presentations and working groups, RR ended with an open discussion with general delegate support on the need for transgender people to be organised independently of the MSM and gay/bisexual men. Three new documents were also approved by the over 300 delegates present: The Delhi Declaration on Collaboration, Principles of Good Practise and Ways Forward: Task Force/Coalition[4], which was a call for the creation of an Asia Pacific advocacy secretariat to help support community development, coordinate activities and give a powerful voice to the needs of MSM and transgender people in Asia and the Pacific,
**********************************
This review of the early history for APCOM was largely based upon the 2008 report of the MSM Global Forum, Scaling up HIV programming for men who have sex with men – the experience in Asia and the Pacific.[5]
---
About the contributor: Paul Causey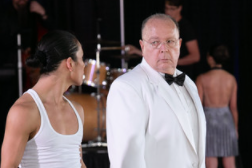 Paul has been involved in assuring client-centred, community-based, accurate, open and reliable access to HIV care, treatments and prevention services for all people in great need since 1987. After relocating to Bangkok, Thailand in 2002, he co-chaired Bangkok Pride 2003, aided in the founding of APCOM and facilitated of over 30 different workshops and special events related to HIV amongst men who have sex with men including gay/bisexual men, transgender women and transgender men in Asia and the Pacific. Now retired, he continues to moderate the Google News Group MSM & HIV in Asia (and the Pacific) as a volunteer, from his recent new home in Tampa, Florida, USA. He is returning to his first love of live performing and arts management and was seen at the end of 2021 in two productions by the famed Tampa City Ballet.
---
See also:
---
[1] Leadership Statement 2004 accessed 27 March 2022; https://www.yumpu.com/en/document/read/26588888/leadership-statement-males-who-have-sex-with-males-xv-
[2] The word transgender, at that time, was not in wide usage and was banned by some Western governments for use in official documents, including the United States. Asia Pacific cultures have a multitude of terms and concepts for such women but most today have agreed to the use and concept of "transgender" as an umbrella term when used in English.
[3] Cambodia, China, Laos, Myanmar, Thailand, Vietnam
[4] Final Technical Report, NFI for Risks and Responsibilities International Consultation (2006)
[5] Scaling up HIV programming for men who have sex with men – the experience in Asia and the Pacific (2008); https://www.yumpu.com/en/document/view/26588930/scaling-up-hiv-programming-for-men-who-have-sex-apcomorg
---
Share this