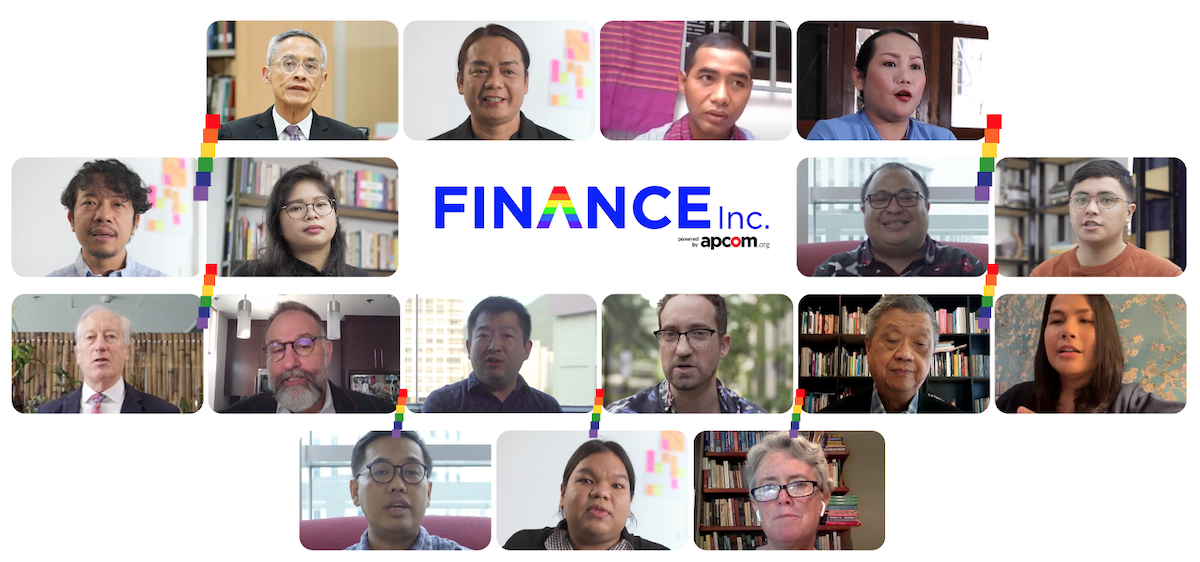 Contributor:
Ramil Andag
Human Rights Officer
---
Coinciding with the commemoration of Pride Month, APCOM releases three videos that aim to share experiences in our implementation of Finance Inc. Finance Inc was a three-year project (2018-early 2022) implemented by APCOM and our country partner organizations in four countries in Asia. Finance Inc. engaged multilateral financial institution, specifically the Asian Development Bank, and the business sector for LGBTQI social and economic inclusion.
Finance Inc. was implemented with our country partner organizations Micro Rainbow International Foundation in Cambodia, Suara Kita in Indonesia, Community Health and Inclusion Association (CHIAs) in Lao PDR, and Babaylanes Inc in the Philippines. The project was supported by VOICE Global.
The videos aim to share our experiences in engaging financial institutions and the business sector, insights from our Advisory Group, human rights expert, and the Asian Development Bank NGO and Civil Society Center.
Video 1: Why LGBTQI Inclusion Matters, delves into perspectives on the LGBTQI situation, the importance of LGBTQI social and economic inclusion, why APCOM did Finance Inc, and initiated engagements with ADB and business sector.
Quotes from the video:
On the LGBTQI situation:
"For more than 20 years now, we have been lobbying for a law on anti-discrimination. But because of a lot of disinformation, the bill is still lingering in Congress."

Jap Ignacio, Executive Director of Babaylanes Inc., on the situation of LGBTQI people in the Philippines
'At the moment we have to reply to that question from the angle of COVID. The situation is here for everybody and on some fronts, more serious for some populations. For example, on access to health, it is difficult for the majority of the population generally, but for trans people, it is doubly difficult at this point in time because of difficult travel to hospitals or non-accessibility of various provisionings such as hormone treatment and unavailability of doctors and nurses…'

Professor Emeritus Vitit Montarbhorn, Faculty of Law at Chulalongkorn University and former UN Independent Expert on SOGI, on the LGBTQI situation.
'The most important is of course, is respect for human rights which is something we have all signed up to, the Universal Declaration of Human Rights, no matter what your color, your race, religion, or your sexual orientation or identity is.''

Former Ambassador of the Kingdom of Netherlands, Kees Rade, on why we should be inclusive.
On Finance Inc:
'Finance Inc is about LGBTQI inclusion in Asia Pacific. For APCOM, it is really about how do we connect with country partner organizations in the four countries, and learning about inclusion-particularly economic inclusion of LGBTQI people,'

Midnight Poonkasetwattana, APCOM Executive Director
'An important part that Finance Inc tried to look in trying to move the agenda of LGBTQI financial inclusion is how is the Asian Development Bank, is thinking about LGBTQI inclusion.'

Clifton Cortez, World Bank Global Advisor on SOGI and part of APCOM's advisory board on Finance Inc.
Video 2: What are we doing shares the project components of APCOM, engagements with the Asian Development Bank, and the achievements of Finance Inc.
Quotes from the video:
'APCOM visited the Asian Development Bank and met with several social development specialists and discussed entry points for SOGIE inclusion into our operations,'

Oliver Chapman, Senior Social Development Specialist at ADB's NGO and Civil Society Center.
'There are many achievements of the project. One is the involvement of LGBTQI community organizations, they participated and engaged with the project activities and started discussing about economic empowerment

Yara Kong, Project Officer, Micro Rainbow International Cambodia
'We managed to bridge the LGBTQI community with representatives from the private sector. We managed to provide space where LGBQTI communities could learn about inclusive policies of small to medium sized companies.'

Bambang Prayudi, Director, Suara Kita, Indonesia
'We come from different backgrounds. But one thing that I can ensure that we have a have a commonality that we bring together. Each advisory committee member brings expertise and knowledge to ensure that Finance Inc activities being developed and implemented can bring greater results…'

Nada Chaiyajit, LGBTQI rights activist and member of Finance Inc advisory board, on the role of the advisory board.
Video 3: Where are we and what more can be done? Three years of journeying together under Finance Inc, APCOM, our country partner organizations, the Asian Development Bank, and our advisory group shared some lessons, learned, challenges, and possible future directions in advocating for LGBTQI social and economic inclusion with financial institutions and the private sector.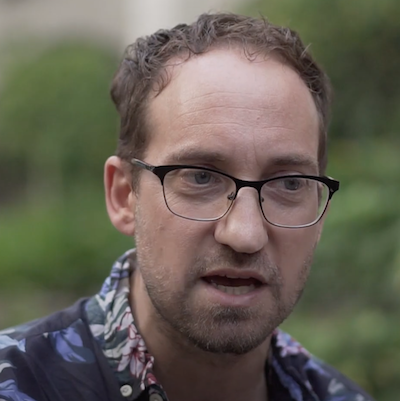 'we are starting a research on legal barriers to SOGIE inclusion…for the first time, SOGIE will be part of the review, and that is an exciting future direction.'

Oliver Chapman, Senior Social Development Specialist at ADB's NGO and Civil Society Center shared
'I think that one point that LGBTQI organizations can engage the financial sector is to let them know that this is not only a good thing to do but it is also something that is also beneficial for them to do. If an organization can be more LGBT inclusive, their staff could be more loyal, more productive…'

Prof Yiu Tung Suen, The Chinese University of Hong Kong and Finance Inc Advisory Group member on how LGBTQI organizations can engage financial sector on LGBTQI inclusion.
'I would say that external pressure can also matter. In economics, we call it external pressure competition. Community organizations can be the visible hand in helping, catalyze and spread the word about LGBTI inclusion."

Prof. Lee Badgett, author of The Economic Case for LGBT Equality: Why Fair and Equal Treatment Benefit Us All, and member of Finance Inc Advisory Board.
'For us, how do we maximize the work that we have done the past three years, how do we use our experiences in the advocacy and ensure that there will be some movement towards more LGBTQI inclusion,'

Midnight Poonkasetwattana
APCOM would like to express our gratitude to everyone who shared their thoughts and insights in the videos.
---
Share this