Chemsex in Asia – Innovative interventions for MSM & Harm Reduction programming
On 3 June 2020, Palani Narayanan, Senior Technical Advisor, Community, Rights and Gender of the Global Fund arranged for a webinar with Global Fund stakeholders including Fund Portfolio Managers, members of the country team, principle and sub-recipients of the Global Fund grants in Asia.
The webinar brought out the awareness of chemsex in relation to HIV and Hepatitis C and discussed emerging community-led examples that have reached this harder to reach population.
Inad Rendon, our Programmes Officer, participated in this historic webinar and highlighted the current research and situation of Chemsex among MSM in Asia and its impact on HIV, Hep C and broader sexual and mental health, and innovative programmes addressing chemsex in Asia:
---
I am Inad, gay man, person living with HIV, I am pretty but single. I use drugs for different purposes – in addition to sexual pleasure, of course. I am also a lawyer, an artist, a person suffering from anxiety attacks and someone clinically diagnosed with Attention Deficit Disorder (ADD). From that list alone, there are layers of factors contributing to drug use (which is not regular use). All activities are reported to my Infectious Disease doctor, including chemsex activities for research purposes.
APCOM is a regional organisation based in Bangkok Thailand working to improve sexual health of gay men and other MSM and human rights of communities of diverse sexual orientation and gender identity. Our work is focused in 35 countries across the Asia and the Pacific Region. We are currently implementing projects supported by the Global Fund, LINKAGES, KPIF, ViiV Health Care, and VOICE Global.
Perspective, perspective, perspective
First, I would like to put things into perspective. Most of APCOM's work is with Asian and Pacific countries with national AIDS programs supported by Global Fund and PEPFAR, and identified as fast track countries through UNAIDS. This means that our work is very limited with in relation to developed countries or countries which are not listed as priority countries or fast track countries.
Second, in 2017 during the Regional Summit that we have organised, regional networks including APN+, APCOM, ANPUD, have identified intersectionalities of issues/challenges between MSM Key population and PWUD key population. These are the MSM who are using Amphetamine-type stimulants for purposes of enhancing sexual pleasure (or 'MSM who engage chemsex').
APCOM's work through TestBKK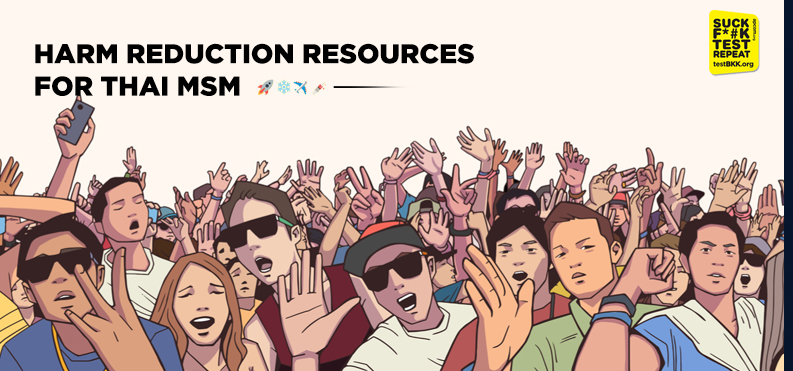 APCOM is also implementing TestXXX a regional city-based online campaign generating demand for HIV testing among MSM. The campaign was supported by EJAF, LINKAGES, Aidsfonds implemented in Bangkok (testBKK), Manila (testMNL), Ho Chi Minh City (testSGN), Jakarta (testJKT), Hong Kong (testHKG) and Yogyarkarta (testJOG). A new campaign is being rolled out in Ulaanbaatar Mongolia under the Global Fund Regional Grant called Sustainability of HIV Programs for Key Populations in Asia (SKPA). Each of these city-based campaigns have their own respective websites to host information for their audience.
Under TestBKK, (supported by Mainline) we have developed a micro site which focuses only on drugs: the mostly used types of drugs by MSM in Thailand, the effects of these drugs, how not to mix, managing coming down, etc.
We then followed it up with an FGD among MSM who engage in chemsex in Thailand (supported by IDPC). We found that the microsite was useful for them. Findings presented that there is limited information about chemsex among MSM in Thailand, and little knowledge about harm reduction services in Thailand.
TestBKK, being mostly online, intensified its key messaging on chemsex in Twitter and targeting twitter users who are into chemsex.
TestBKK also produces PartyPack – it is a safe sex party box for MSM with condoms, lubricants, safe sex promotion, prep promotion, information about HIV and HIV services. We also added information on chemsex;
Programming, entry points for 'ChemSex'
In terms of programming, there are very limited responses focusing directly towards MSM who engage in chemsex. Some contributing factors include:
There is no data on MSM and chemsex in most countries in Asia, bearing in mind that PWID key population is different from MSM who engage in chemsex; By data, I am talking about sexual behavior and health-seeking behavior data among MSM who engage in chemsex; Determination of MSM subpopulation of those who engage in chemsex from number of HIV testing among MSM provided by national HIV program;
Situation of drug use in Asia is still criminalized. Programming wise, punitive measures on drug use have implications not only to the MSM who are using drugs but also towards the CBOs who are working on this issue;
Stigma within the MSM population;
Little awareness amongst the National AIDS programmers that this is an issue;
Let us not leave the gap which are the countries not supported by the Global Fund or PEPFAR because, as presented by Dr Ku, chemsex are happening in Taiwan, Hong Kong, Singapore, Japan.
---
Agenda
10.00 CET – 10.05 CET – Introductions
Introduction by Palani Narayanan, High Impact Asia Focal Point for CRG, to the webinar, its objectives and speakers
10.05 CET – 10.15 CET – Chemsex – setting the scene
Presentation by Ben Collins on what is Chemsex and what are the harms related to chemsex.
10.15 CET – 10.25 CET – Chemsex in Asia – What do we know so far?
Dr. Howie Lim (Malaysia) and Dr. Stephane Ku (Taiwan) will present the available qualitative research data gathered from a 5-country study being conducted through Chulalongkorn and La Trobe Universities.
10.25 CET – 10.35 CET – Responses from Europe
Mainline (Amsterdam) has been developing programs responding to chemsex in Amsterdam and assisting several countries in Asia in developing responses to non-injecting and ATS use.
Nick Veldwijk and Sjef Pelser will present the work they do in Amsterdam
Short Q &A
10.45 CET – 10.55 CET – Responses from MENA
Elie Ballan and M-Coalition of AFEMENA are leading the responses in the MENA region which will have much relevance to countries with Muslim majority population in Asia.
10.55 CET – 11.05 CET – Responses from Asia – APCOM
Inad Rendon will present the current responses and innovative approaches that are being implemented in several Asian settings
11.05 CET – 11.15 CET – Responses from Asia – Lighthouse
Doan Thanh Tung from Lighthouse in Vietnam have developed some innovative interventions to reach MSM online with chemsex messages along with providing mental health support and training for peer educators on the subject
11.15 CET – 11.30 CET – Q &A
A moderated discussion will take place focusing on the innovative approaches that are effective and possible in the Asian context.
---
Share this