Contributor:
Nicky Suwandi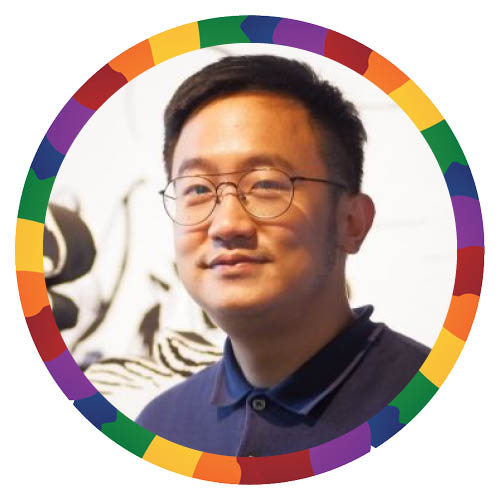 ---
The city of Bangkok is progressively getting back its energetic beat. In 2022, I gradually saw people flocking at airports, restaurants, concert halls and clubs, it seems like the city has danced again. It is such a contrast to the details outlined in my previous article written during pandemic times, where I poured out how the city is not like the one I used to know. I joined APCOM and relocated to this city during the height of the pandemic, and it was really challenging in many aspects.
From the near end of the first half of 2022, I can really feel the difference as my calendar gets filled-up quickly with scheduled visits from friends and colleagues. As it is well-known, Bangkok has long reputation as a hub for various events, meetings, and workshops related to HIV response in the Asia Pacific region, thanks to its strategic geographic location, and anyways, most people are just generally excited to visit the Thai capital, which has ranked as the most visited city in the world in from 2016 to 2021 (with exception of COVID time in 2020).
It is truly a different kind of experience to physically meet people you regularly see on screen during pandemic times. Also, the euphoric feeling when you get the chance to reconnect with old friends after some time. Let me share some of my memorable moments below, particularly with those who visited Bangkok in 2022, and related with my past and present work at APCOM. They are listed by countries in alphabetical order.
INDONESIA: Wawa Reswana is my former colleague at GWL-INA, my previous organization before APCOM. At the time I was the Project Manager of testJKT, city-based campaign specifically-tailored for men who have sex with men (MSM) community in Jakarta capital. The initiative is currently still active and it is part of APCOM's flagship campaign testXXX. As APCOM, I work together with Wawa on an advocacy letter for the current Global Fund strategy, in which he represented GWL-INA as one of twelve signatories organizations. We also produced country-specific advocacy letters as a follow-up of the initiative. In addition, Wawa also participated in one of the sessions during APCOM Community Summit 2020. He currently works at Indonesia Positive Network (JIP) and visited Bangkok last September to attend an event organized by APCOM.
INDONESIA: Rully Mallay – that's Ibu Rully or Madame Rully to me – is a senior transgender activist in her native Yogyakarta or Jogja, a special Indonesian city in Java island. I met her during my time at GWL-INA, where I frequently visited the city to provide technical assistance on the implementation of the testJOG campaign. It was a copy of its sister-campaign in Jakarta and the project concluded with a regional dialogue and evaluation report released in early 2020. Ibu Rully came to Bangkok last November to attend the APCOM HERO Awards 2022, where she awarded as Transgender Hero award.
LAO PDR: I work closely with Lattavanh "Kai" Sengdala on testVTE campaign, APCOM's testXXX adaptation for MSM and transwomen communities in Vientiane capital, which culminates with the grand launch of the campaign. She came to Bangkok as a representative of CHIAs, to be in the same event with Wawa in September.
MALAYSIA: I have been friends with Jeremy Tan Fok Jun on Facebook since a few years ago. I remember he meaningfully participated as one of the panelists in APCOM's webinar on access to HIV services for young MSM. He is the award recipient for the Young Achiever category and traveled to Bangkok last November to attend the APCOM HERO Awards 2022 ceremony. In addition, Jeremy and I recently shared a trip to Cape Town, South Africa, to attend the International Workshop on HIV & Adolescence 2022, in which I served as Organizing Committee Member.
MONGOLIA: I work closely with Nyampurev "Nyamka" Galsanjamts on test4UB campaign as part of the demand generation component under The Global Fund's SKPA-1 project. The campaign got its grand launching during the pandemic era and was the first-of-its-kind initiative specifically dedicated to the MSM community in capital Ulaanbaatar. Nyamka visited Bangkok last June, coinciding with Bangkok's Pride Parade festivities, as well as their birthday celebration. Not to mention, I have had the pleasure meeting Dr Byambaa and Dr Setsen who came to visit Bangkok in August to attend the Kick-off Workshop of The Global Fund's SKPA-2. These are the lovely people from Youth for Health Center Mongolia, and I am looking forward to continuing fruitful collaboration with them under the grant.
NEPAL: I was in contact with Manisha Dhakal and Sanjay Sharma, both from Blue Diamond Society, on several collaborative efforts. Together with five other organizations across Asia, we work on advocacy letters for the current Global AIDS Strategy. As a next step from this initiative, we received a response letter from UNAIDS Executive Director. We also collaborate on a collective video in commemoration of 2021 International Day Against Homophobia, Transphobia and Biphobia. Most recently on a Regional PrEP Survey, exploring the values and preferences of pre-exposure prophylaxis (PrEP) products MSM and trans women in 16 countries across Asia and Australasia. Manisha is fully committed to help promote the survey, the number of trans women respondents for the survey in Nepal is the highest compared to other countries. Manisha and Sanjay visited Bangkok in September and November, respectively, on two separate occasions organized by APCOM.
PAKISTAN: Yasir Ali Khan and I are both active advocates for chemsex issues and part of the Asia Chemsex Platform. Among several engagements with APCOM, he meaningfully participate as one of the panelists in APCOM's webinar on new PrEP products, where he shared perspective of the MSM communities who use drugs. Yasir traveled to Bangkok in November to attend APCOM HERO Awards 2022, where he was awarded as HIV Hero.
PAPUA NEW GUINEA: I was leading the demand generation component under The Global Fund's SKPA-1 grant, which Papua New Guinea was one of the implementing countries and Lesley Bola provided a lot of country-level support. I finally met Lesley during his visit to Bangkok for the UNAIDS/DFAT Indo-Pacific HIV Prevention Programme 2021-2023, where APCOM and the organization led by Lesley, Key Populations Advocacy Consortium (KPAC) of Papua New Guinea, continue partnership for a small initiative on HIV prevention. We managed to conduct focus group discussions with four populations-at-risk at near end of 2022.
PHILIPPINES: Demand generation was a considerable component under The Global Fund's SKPA-1 grant, where I work closely with Edgar Bagasol Jr., John Oliver "JO" Corciega, and team at the LoveYourself, Inc. on their series of campaign titled #SaferNowPH. They also provided a lot of support for the translation processes of the document I co-wrote, APCOM's PrEP Demand Generation Toolkit, which has been translated into 14 languages from 9 countries (including 4 widely spoken local languages in the Philippines). JO visited Bangkok last May for an event related to the SKPA-1 grant and, I finally met Edgar for the first time in Canada last July.
VIETNAM: There are many collaborations between APCOM and the organization led by Doan Thanh Tung, the Lighthouse Social Enterprise. Among others, Tung participated as a speaker at APCOM's webinar on chemsex. Tung visited Bangkok last November to join APCOM Community Summit 2022, and at that time he and his team also visited APCOM office for a cross-learning on chemsex issues. Walking down memory lane, I first met Tung back in 2019 (I was not yet part of APCOM back then), where we were both participants for PrEP Demand Generation Training organized by MPact and ITPC in Siem Reap, Cambodia. We also recently shared a session on chemsex at the Global Village main stage, as part of the International AIDS Conference #AIDS2022 in Montreal, Canada.
It is worth to note that some of the activities mentioned above may be intertwined among organizations, however I just picked a handful of joyous moments with these wonderful people, especially after such restrained conditions during the pandemic. In reality, there are too many great moments to be shared as I literally get to work with a lot of fantastic people across the Asia Pacific region and get the privilege to be acquainted with them.
There are more friends and colleagues which I shared unique moments with and many more great stories to tell if not limited by the length of this small article. I am still waiting to meet more of them in person – some would be for the first time in person and some would be reconnecting moments between old friends – hopefully in this year of 2023, where possibilities are endless. With a couple of in-house events planned, as well as my travel plan abroad currently set, I really hope there will be many good surprises in store. It will be better than ever before.
---
---
APCOM staff share their activities for maintaining good mental health
Click on the photo to read their articles.
---
Share this